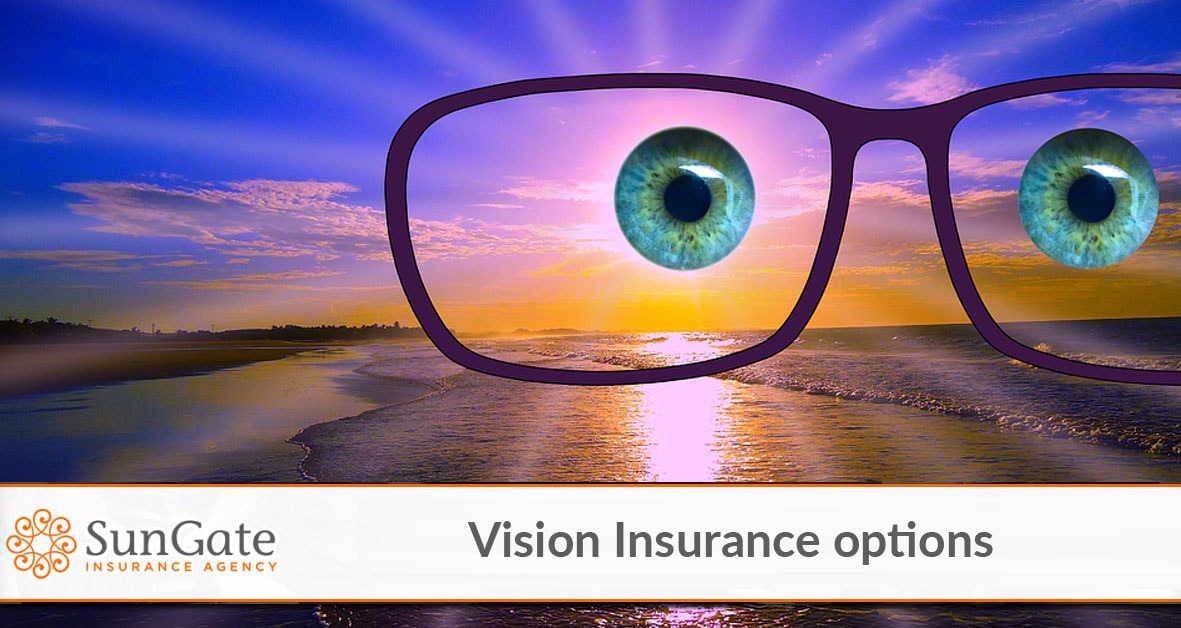 ​Vision Insurance Basics

According to the National Eye Institute, nearly one-third of all adults in the United States today need some sort of vision correction such as eye glasses and/or contacts.
If you are one of the many, many Americans who require glasses or contacts, you already know how important eye exams are to maintaining the health of your eyes. Yet even individuals who do not currently need glasses or contacts should get regular exams; eye exams can often reveal hidden medical problems that may benefit from early detection and treatment. And as you age, the frequency of those exams should increase!
From an insurance perspective, it's important to distinguish between eye health and vision problems. Most health insurance plans include coverage for medical conditions relating to your eyes, but they do not cover routine eye exams that may detect those problems, nor do they cover corrective equipment such as contacts or corrective procedures. Therefore, if you anticipate needing yearly or more frequent eye exams or if you or your family members have vision problems (as opposed to eye-related medical problems), you may need to supplement your health insurance with vision insurance.
Vision Insurance Options: Addition (Optional Rider) or Ancillary Plans
If you already have health insurance, either through your employer or through an independent plan, you may be able to purchase what is known as an addition, or optional rider, to provide coverage for vision-related issues through your health insurance provider. For an extra premium, the plan beneficiaries can get access to a fixed-dollar amount of services. In other words, after your basic co-pay, the plan will cover up to a certain amount for exams, glasses, and/or contacts. You will need to pay the difference out-of-pocket.
Ancillary vision insurance is a separate vision plan independent of any specific health insurance plan. In most cases, ancillary vision insurance offers a discount on all vision-related expenses, up to a pre-determined amount. For instance, if you require an annual eye exam with one new set of glasses every year, your plan will pay for a specific percentage (20%, for example) of the exam and the new eyewear and you will pay the difference out-of-pocket. As a rule, ancillary plans tend to be less expensive than optional riders.
With both types of plans, it's important to note whether it comes with an annual deductible that you will need to meet before the benefits can begin. It also important to choose providers, whenever possible, that are "in network", as visiting an out-of-network provider may limit coverage or be more expensive.
What Services Does Vision Insurance Cover?
In general, both optional riders and ancillary vision plans will offer coverage for a variety of vision-related services, although the level of coverage may vary from plan to plan. Most vision insurance plans will cover, or partially cover:
Basic preventative care, usually in the form of an annual eye exam and/or vision test
Eyeglasses, including both frames and lenses
Some types of protective and/or scratch-resistant coating for eyeglass lenses
Contact lenses

Depending on your specific plan, some vision insurance plans may also cover or provide partial coverage for additional, more expensive, options such as:
Daily disposable contact lenses
Corrective eye surgery such as LASIK

It's important to take care of your eyes so you and your family members can see properly and clearly! In some cases—if everyone is young and there is no history of vision problems or eye-related medical problems—you may be able to get away without any vision insurance. Luckily, however, most vision insurance plans are easy to get and extremely affordable, even for an entire family, and it's good to know that you have the insurance coverage you need in case vision-related problems do arise.
Contact SunGate Insurance Agency today learn more about the type of insurance you need. Click here to contact us or call (407) 878-7979.
SunGate Insurance Agency Coverage
Home Insurance, Auto Insurance, Health Insurance, Group Insurance, Property Insurance, RV Insurance, Renters Insurance, Event Insurance, Insurance Bonds, Life Insurance, Business Insurance, Workers Comp, Flood Insurance, Umbrella Insurance and more!
Located in Lake Mary, Florida (serving clients Nationwide and locally in Orlando, Heathrow, Longwood and surrounding Central Florida areas.