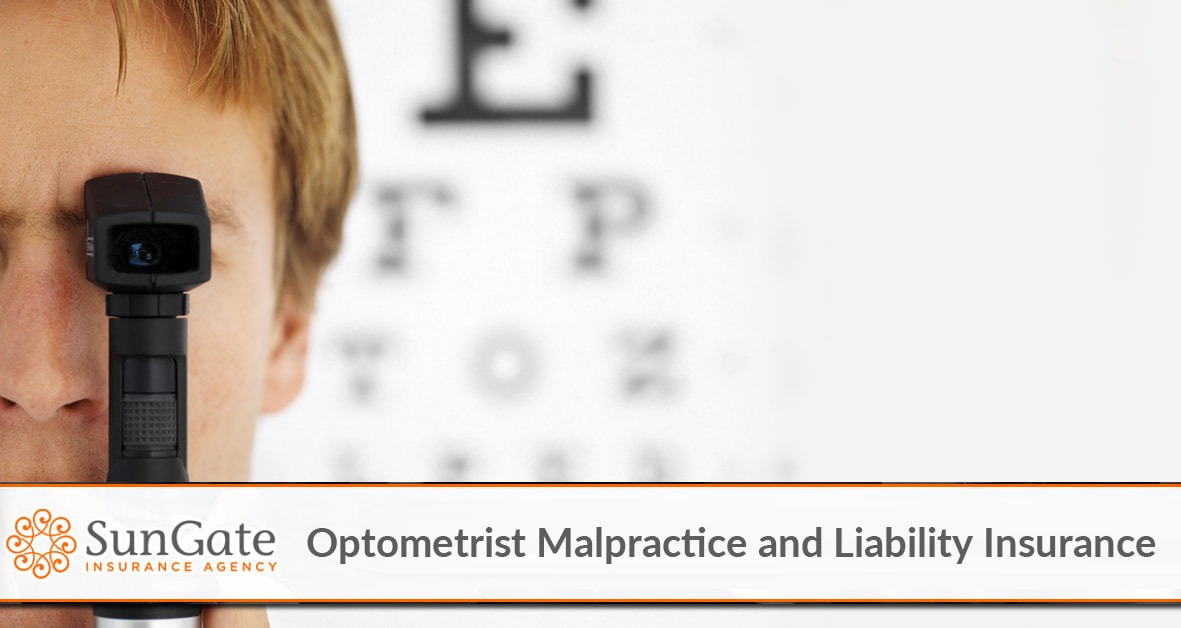 As an optometrist, your goal is to help your patients protect their eyes and enhance their vision to the best of your ability. Hopefully, for most patients, it's as simple as making sure they have the right corrective lenses.
Optometrist Insurance
Yet for other patients, protecting their vision may require careful, long-term thinking and planning for the potential worst case scenario. While it may be difficult for some patients to face the worst case scenarios, you know—as a healthcare professional—that it can help ensure that their vision and their overall health stays on track.
And as difficult, or as irritating, as it may be for you to think about risks and worst case scenarios when it comes to your profession, it's just as important for you as it is for your patients! Unfortunately, one small accident at the office, an innocent mistake by one of your technicians, or just one lawsuit brought by a dissatisfied patient can be financially and professionally devastating. So taking the time to think through the risks—and the worst case scenarios—in order to develop a comprehensive insurance policy for yourself and for your optometry practice will give you both financial protection and peace of mind.
Generally speaking, a comprehensive insurance policy for an optometry practice will involve two elements: a business owners' policy (BOP) that incorporates most standard business coverages and professional liability insurance, otherwise known as malpractice insurance. If you own or operate your own optometry practice, you will need to consider both types of insurance. If you are a member of or employee at a large-scale practice, you probably have some basic malpractice coverage through the practice (assuming it is properly insured). However, there are limitation to that level of coverage, and you may want to consider carrying your own personal malpractice for additional protection and for coverage as you move between practices.
Business Owner's Policy for Optometrists
A Business Owner's Policy, or BOP, is a way to bundle multiple standard commercial coverages into one package, usually at a lower cost. It usually incorporates:
General Liability: offers financial protection in case a client is injured or their property is damaged on your premises, such as if a client files a lawsuit after taking a fall in your office
Commercial Property: offers financial protection should your property, including office space, tools and equipment, and records, are damaged or lost due to theft, vandalism, or natural disaster (up to the limits of your policy)
Business Income Insurance: protects your income in case you are unable to treat patients due to covered property damage

In addition to a BOP, if your practice employs four or more part- or full-time employees, you are required by Florida law to carry Worker's Compensation insurance. "Worker's Comp", as it is usually called, can help pay lost wages and medical bills to employees who suffer a job-related injury or develop an occupational illness.

As with most medical practices, optometrists' offices collect, store, and transmit personal and medical information on a daily basis. Data Breach/First-party Cyber Liability coverage offers financial protection should this data be lost or compromised through a data breach. This coverage can help protect from lawsuits and can help cover the costs of notifying patients and handling any incurred HIPAA fines.

Professional Liability Insurance for Optometrists

Florida, like many other states, does not require optometrists or other medical professionals to carry malpractice insurance, more formally known as Professional Liability Insurance (or Errors and Omissions Insurance). However, in our highly-litigious society where patients can all-too-easily use a lawsuit to lay blame for an unhappy outcome, the financial cost of not protecting your practice with an appropriate insurance policy is pretty high. Professional Liability Insurance protects you, your staff and fellow doctors, and your practice against financial losses should a client file a lawsuit against you relating to your advice, diagnosis, and/or treatment.

In addition to the professional liability insurance carried by the practice in general, we recommend that each individual optometrist, even those practicing within a larger group practice, carry their own personal Professional Liability insurance. Because most policies are so-called "claims-made", the policy must be active both at the time of the alleged incident and at the time of the claim. A personal policy will follow you through multiple practices and jobs, ensuring that there are no gaps in coverage that could invalidate coverage for a claim made against you while you were at a prior practice.

Contact Sungate Insurance Agency serving Orlando, Lake Mary, Longwood, Heathrow and other Florida-area businesses!

We are the insurance experts at your local insurance company. Contact us today to discuss optometrist insurance and to get a free quote!
Contact SunGate Insurance Agency today learn more about the type of insurance you need. Click here to contact us or call (407) 878-7979.
SunGate Insurance Agency Coverage
Home Insurance, Auto Insurance, Health Insurance, Group Insurance, Property Insurance, RV Insurance, Renters Insurance, Event Insurance, Insurance Bonds, Life Insurance, Business Insurance, Workers Comp, Flood Insurance, Umbrella Insurance and more!
Located in Lake Mary, Florida (serving clients Nationwide and locally in Orlando, Heathrow, Longwood and surrounding Central Florida areas.