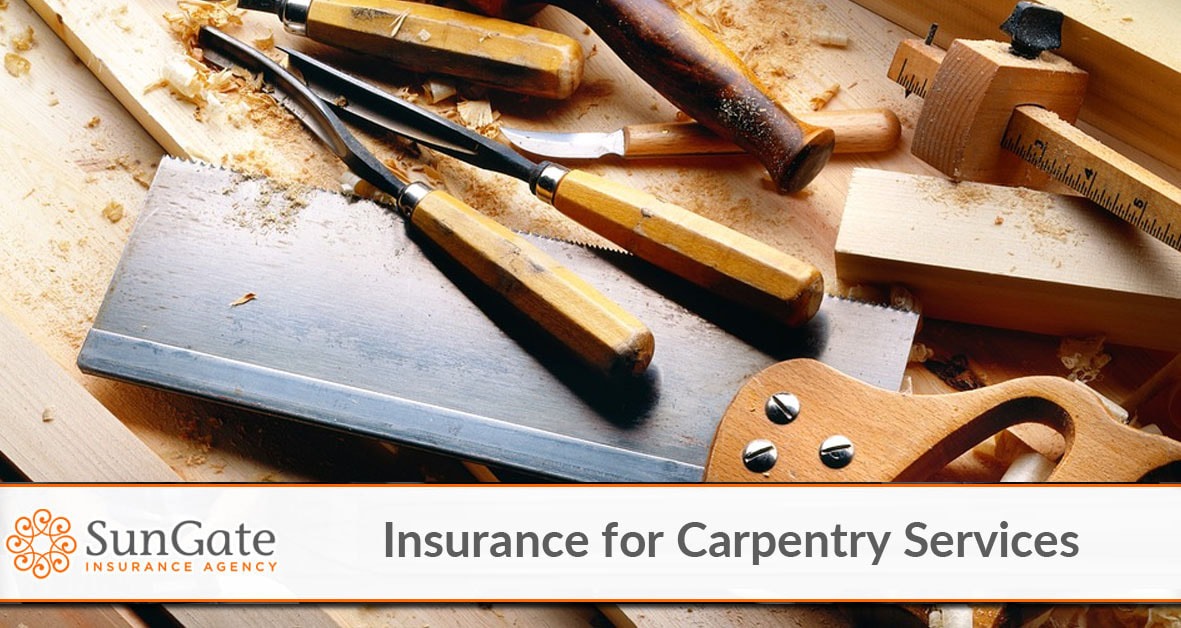 In today's booming economy, skilled and experienced carpenters are in high demand! Indeed, in many areas across the country, the need for individuals with carpentry skills—from framers to cabinet makers—is on the rise, and luckily shows no sign of slowing any time soon.
Yet as demand rises, so does risk; unfortunately, just one accident or error can undermine your financial stability for years to come. So whether you work as an individual or operate a small carpentry business, it's critical to protect yourself against financial risk and safeguard your peace of mind with
general liability insurance
.
What is general liability insurance and what does it cover?
Generally speaking, general liability is a type of business insurance designed to protect you against financial loss relating to accidents, injury, and lawsuits that may occur as the result of the services you provide. The type of general liability coverage and the cost of your specific general liability policy will depend, in large part, on the level of risk your specific trade involves; for example, a framer has significantly different risk exposure than a flooring contractor. It will also depend on how many employees you have (if any) and the level of coverage that you want and/or require.
Typically, general liability insurance covers:
Bodily injury and property damage: General liability insurance covers the costs of accidents or injuries that may arise as the result of your work. It also offers financial coverage in case your work or services cause damage to third party's property. It is important to note that general liability does not cover injury or medical expenses for employees. It also does not cover damage to your property (see below for a more comprehensive list of what general liability does not cover).
Medical payments: General liability insurance will cover any medical or funeral-related expenses for non-employees who have been injured or harmed by your work or your services. Usually, medical payments have a pre-defined coverage limit; should the incurred medical expenses exceed those limits, you would be responsible for paying the excess out-of-pocket.
Products and completed operations: General liability insurance provides coverage on damage to or caused by either the products you produce and/or completed operations. For example, should a product that you produce lead to an injury or illness and the injured party sues you, general liability will cover the costs stemming from the lawsuit. It would also cover you should an error in your work lead to property damage, after your services are complete.
Personal and advertising injury: General liability will also cover you in the rare case that you are sued for libel, slander, malicious mischief, and/or copyright infringement. For example, should a subcontractor experience a decline in business after working with you on a job and blame you for starting a rumor about the subcontractor's poor workmanship or customer service, general liability insurance will cover the costs stemming from the lawsuit.
Damage to premises you rent: General liability may include coverage for damages your business or services cause to buildings, structures, or land that you rent (non-owned). It would not cover damages caused by a natural disaster, for example, or vandalism.

What Doesn't General Liability Cover?

It's important to note that general liability insurance, while important, is not comprehensive and as a stand-alone policy, may not offer complete coverage for your business. You may require additional insurance to supplement your general liability policy to ensure complete financial protection; you may also require additional coverages to ensure compliance with state and local laws.

General liability insurance does not cover:
Commercial property and equipment that you own: covered under property insurance; can be bundled with general liability in a Business Owner's Policy (BOP)
Lawsuits stemming from professional mistakes: may be covered under professional liability and/or errors and omissions insurance
Employee injuries: employee injuries, medical expenses, and lost wages for your employees must be covered under a separate policy called Worker's Compensation
Commercial vehicles: any vehicles that you and/or your employees operate for work purposes must be covered under a commercial vehicle insurance policy separate from your personal auto insurance policy

Florida law requires that carpenters and all general contracting businesses have Workers' Compensation Insurance if they have at least one employee, as well as Commercial Auto Insurance on any business-owned or –operated vehicles.
Contact SunGate Insurance Agency today learn more about the type of insurance you need. Click here to contact us or call (407) 878-7979.
SunGate Insurance Agency Coverage
Home Insurance, Auto Insurance, Health Insurance, Group Insurance, Property Insurance, RV Insurance, Renters Insurance, Event Insurance, Insurance Bonds, Life Insurance, Business Insurance, Workers Comp, Flood Insurance, Umbrella Insurance and more!
Located in Lake Mary, Florida (serving clients Nationwide and locally in Orlando, Heathrow, Longwood, Maitland, Sanford and surrounding Central Florida areas.