Smart Home Technology and Insurance Discounts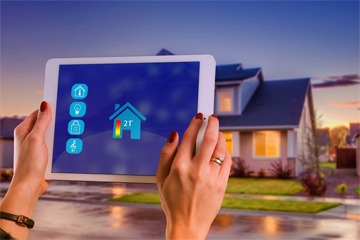 Smart homes are fast-growing in popularity. A smart home is one where household appliances are all connected to the internet. This allows the homeowner and residents to control appliances using their mobile phone and even remotely.
The use of smart home technology can ensure devices that secure your home. Surveillance cameras and motion sensors can keep an eye on your home and send you alerts in case of something suspicious.
Smart homes would have sensors that can detect fires. They also can spot leakages and other problems. This is why an insurance company would offer discounts on home insurance for smart homes.
Discounts for smart homes
When you buy home insurance, you are eligible for discounts if your home is secure and well-protected. Smart homes have sensors that can detect problems and offer reasonable protection against threats like fire, theft, etc. This is the reason insurance companies offer substantial discounts on home insurance for smart homes.
Here is some useful information on the discounts you can expect if you have a smart home.
Applicability
The kind of smart device eligible for a discount would vary from one agency to another. In general, the following smart home devices will fetch you a discount:
Security systems with sensors in the doors, windows, video doorbells, and smart locks.
Sensors that detect gas and water leakages and shut off supply.
Smart homes with sensors that detect smoke or have a fire alarm. Also, availability of automatic interior sprinkler system will ensure discounts.
Smart thermostats installed in homes.
A smart home device controller like Amazon Echo Dot.
Savings offered
The exact amount of savings offered varies from one insurer to another. It also depends on the home insurance policy you opt for, the devices installed, and other factors. Generally, the following is the savings you can expect:
Discounts from 5% to 20% on the insurance premium is offered.
Some insurers offer reduced costs for installation of systems or activation charges.
Multiple discounts can be offered if you have more than smart home device/system.
Buying home insurance
You can buy home insurance in Orlando, Lake Mary, Longwood, Heathrow, FL from a reputed insurance agency like Sungate Insurance agency. Sungate offers different insurance policies, so you can get all your needs covered through them. If you have a smart home, then you can expect a good discount on your insurance policy. Get in touch with Sungate. They will send an executive to your home to carry out an assessment and then give you a quote.
Need Help to Review Your Insurance? Contact Us.

Contact SunGate Insurance Agency today learn more about the type of insurance you need. Click here to contact us or call (407) 878-7979.
SunGate Insurance Agency Coverage
Home Insurance, Auto Insurance, Health Insurance, Group Insurance, Property Insurance, RV Insurance, Renters Insurance, Event Insurance, Insurance Bonds, Life Insurance, Business Insurance, Workers Comp, Flood Insurance, Umbrella Insurance and more!
Located in Lake Mary, Florida (serving clients Nationwide and locally in Orlando, Maitland, Heathrow, Longwood, Windermere, Kissimmee, Orange County, Seminole County, Lake County, Ocala, Clermont, Leesburg, Mt. Dora, Winter Garden, Davenport and surrounding Central Florida areas.)