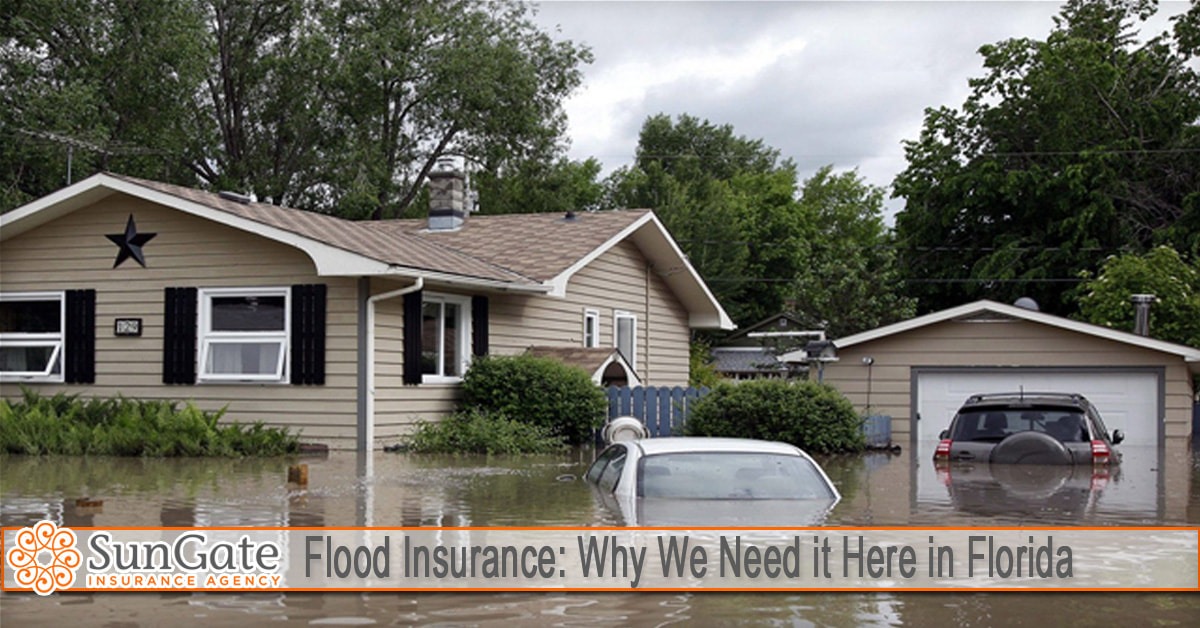 ​It's hard to to a week without seeing another story on the news about major flooding somewhere in the United States. The amount of damage a flood can cause to your home and belongings is enormous. Lucky are those who have enough savings as they can easily get back on their feet. But unfortunately, many residents have to start from scratch, especially those who don't have a flood insurance policy.
​Flood insurance is becoming more and more essential for homes located in high-risk areas like pretty much everywhere here in Central Florida. And with the unpredictable weather conditions we're having nowadays, every homeowner should consider having flood insurance.
Keep in mind that whenever there's rain, it's possible to become flooded. With flood insurance, you don't have to wait for an intense storm to come before you can start making claims. Whether it's an overflowing water from a stream or river nearby, as soon as this water reaches the pavement, it will be covered by the insurance.
The Importance of Flood Insurance
Flooding (with or without warning) is a major weather emergency not only in the U.S. but in most parts of the world as well. It can be a result of tropical storms or hurricanes, heavy downpours or even clogged drainage systems. Thanks to the concrete jungle we all live in, flooding has become more and more common all over the country.
While you might think your location is safe from water damage, it only takes a couple of minutes and a few inches of water for you to realize that flood already damaged a part of your home. If this happens, don't expect the federal disaster assistance to help you financially to get back on track. Moreover, loans are only accessible when a state of emergency is declared. Also, the interest can add to your financial burdens while repairing the damages of your home. But with a flood insurance policy, you can qualify for claims even if there's no federal disaster declaration in your local state.
For High-Risk Areas
There are places that the government considers as flood hazard areas. If your home is within these high-risk vicinities, you're required to get a flood insurance policy before applying for a home loan. High-risk areas have a 25% chance of being flooded within their 30-year mortgage. Although it's higher compared to the risk of experiencing fire emergency, most people would rather get fire insurance than flood insurance. Experts estimated that around 25 million buildings, both commercial and residential, are in these high-risk areas.
Moderate to Low-Risk Areas
Flood insurance is still recommended for homeowners living in moderate- to low-risk areas. Experts proved that about 25% of the flood insurance claims in U.S. were from places considered to have a mere one percent chance of experiencing the flood. Most flood insurance policies in these areas are cheaper compared to those of the high-risk areas. Both businesses and homeowners can take advantage of these low-cost policies.
Getting your Flood Insurance
The government has included more than 20,000 communities as part of its insurance program. With this program, people will know more about the proper management plans in case of flood, particularly in high-risk areas. There are also policies available for those who are located outside the mapped flood area just in case they want to take precaution from this water emergency.
The Cost
The location of your home and its date of construction are just some of the main factors influencing the premiums of your flood insurance policy. The average price is around $600 a year, and you would have to wait for a month before the coverage takes effect. Depending on your needs and budget, you can have a coverage worth $30,000 or less. However, there will be an additional cost if you want to include the contents of your home which can have a coverage worth $100,000. On the other hand, members of condominium associations can get as much as $300,000 worth of coverage for each unit that they have.
We know how much you value your biggest investment. That's why here at SunGate Insurance Agency, we will show you how to protect it with flood insurance coverage. Consult one of our agents regarding your location to see whether you are living in a high-risk or low-risk area. Get in touch with us by clicking here or call us at 407-878-7979 and set an appointment today!
Contact SunGate Insurance Agency today learn more about the type of insurance you need. Click here to contact us or call (407) 878-7979.
SunGate Insurance Agency Coverage
Home Insurance, Auto Insurance, Group Insurance, Property Insurance, RV Insurance, Renters Insurance, Event Insurance, Insurance Bonds, Life Insurance, Business Insurance, Workers Comp, Flood Insurance, Umbrella Insurance and more!
Located in Lake Mary, Florida (serving clients Nationwide and locally in Orlando, Heathrow, Longwood and surrounding Central Florida areas.