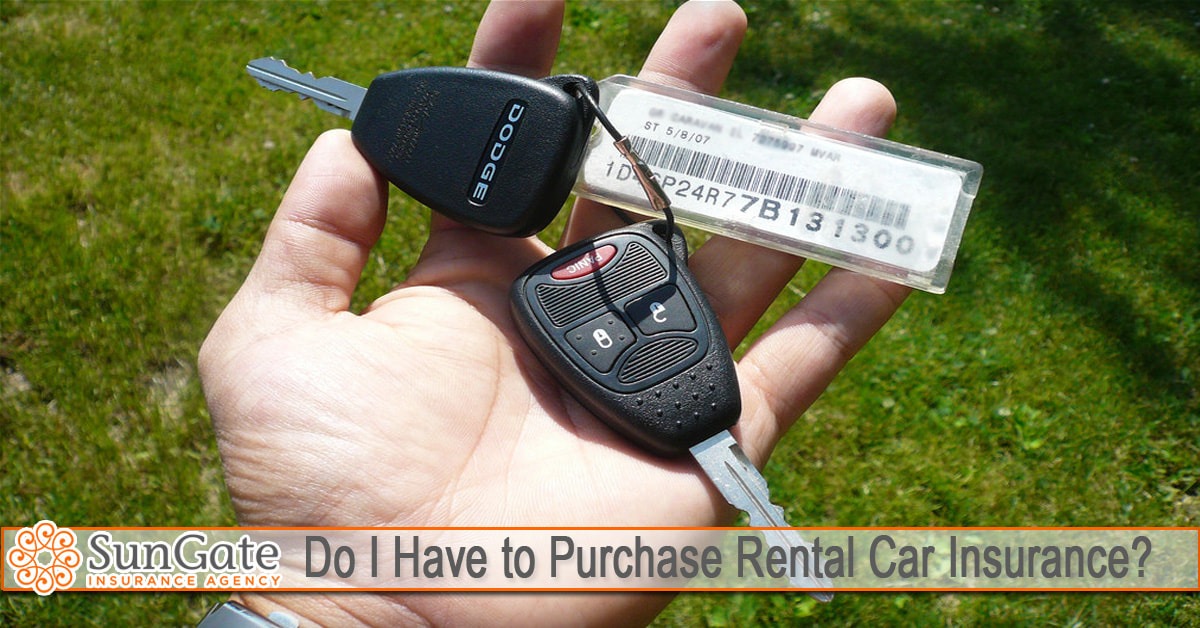 ​We've all been there before, standing at the car rental counter going through the options on a rental car you're about to drive away in when the employee at the counter asks whether you want to purchase the extra insurance. You're not sure you need it but the rental car employees can be pretty convincing… So what's the answer? Do you need to buy the rental car insurance?
Let's find out…
​To gain profit, most car rental companies do not say upfront that you are just getting another insurance coverage on top of your existing policy. There are also several credit card companies that give a complimentary rental car insurance or protection from collision damage if you use their card to pay for the rental. Sounds confusing? Here's a breakdown of what you have to remember when renting a vehicle.
Personal Car Insurance Policies Usually Apply to a Rental Car
Most of the time, your car insurance policy will give you enough protection even when you're renting a vehicle from a dealer. If you purchase insurance from SunGate Insurance, your coverage would be extended to the rented vehicle as well.
If you bought collision and comprehensive insurance coverage, liability coverage, or any other add-ons on top of your standard policy, all these could protect you when you drive a rental vehicle.
However… if you don't have collision and comprehensive coverage on your current policy, you won't have it on the rental car and you should absolutely purchase it from them.
Simplifying Terminologies
One reason why most car renters decide to purchase whatever the rental company offers is because of the confusing words. The terms used in rental car insurance is somehow different than your typical auto insurance policy. Take note of these phrases in case you have plans of renting a vehicle soon.
• Loss/Collision Damage Waiver – Sometimes called as DW, LDW or CDW, this just states that the rental company is not allowed to ask for claims in case of damages or theft while the vehicle is under your care.
Each waiver varies from one rental company to another. However, most of these waivers do not include damages brought by drivers who are under the influence or if you took the vehicle outside the agreed area.
The cost of getting a damage waiver can add a significant amount to your car rental fee. Before picking up the car, make sure that you confirm with the rental company how much would they charge for this. Also, check your policy if it already covers rental insurance when you signed up for the collision and comprehensive coverage. You surely don't want to pay for something that you can get for free.
• Supplemental Liability Protection – This will give you protection in case you caused damages to other vehicle or property. Often, the limit is set at $1,000,000.
• Personal Effects Coverage – It's the insurance that would protect your valuables in case of theft or damages while you're using the rental vehicle.
• Personal Accident Coverage – This covers the expenses for injuries or even death while you're using the rented car. You can also include the passengers and drivers who are with you while using the rental car.
Coverage Perks from your Credit Card
To entice more clients, there are now numerous credit card companies that offer insurance when you rent a car. This secondary insurance can only be used after your main car insurance coverage sets in. In case of unfortunate events, it will help you bridge the gap for your excess damages and deductibles.
Advantages of Buying The Supplemental Insurance
For some people, this can be a good option if you want to avoid a higher car insurance premium after an accident. The supplemental car rental coverage is an advantage for those who have high deductibles on their standard auto insurance policy.
When in doubt, you can always count on any of our agents to let you know your options when it comes to rental car insurance. You may contact us anytime by calling us at 407-878-7979 or click here to request a quote.
Contact SunGate Insurance Agency today learn more about the type of insurance you need. Click here to contact us or call (407) 878-7979.
SunGate Insurance Agency Coverage
Home Insurance, Auto Insurance, Group Insurance, Property Insurance, RV Insurance, Renters Insurance, Event Insurance, Insurance Bonds, Life Insurance, Business Insurance, Workers Comp, Flood Insurance, Umbrella Insurance and more!
Located in Lake Mary, Florida (serving clients Nationwide and locally in Orlando, Heathrow, Longwood and surrounding Central Florida areas.
​