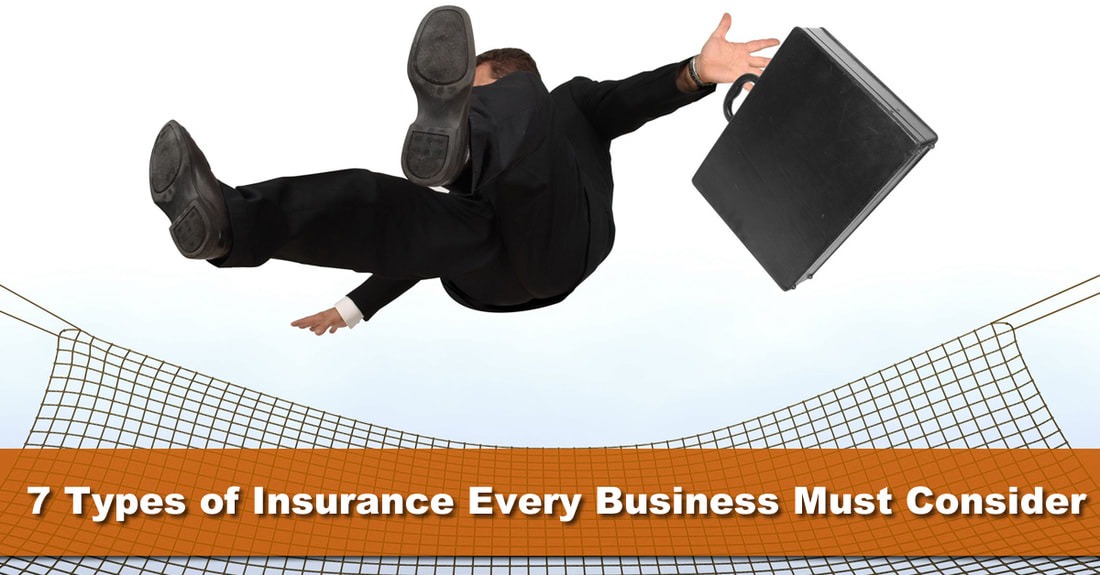 ​Most entrepreneurs today, especially new business owners, are confused with the kind of insurance their business needs. Since there are various types to choose from and a wide array of risks your business faces, it's important to ensure you are giving yourself and your business complete coverage. If a disaster, emergency, lawsuit, or just plain bad luck arises, will you be ready?
​Choosing business insurance is especially difficult for those who are just starting their companies. Their financial capability plays a significant factor in determining what their options are. Here are the eight different types of insurance for your business to consider
Insurance for Home-Based Business
This one is for entrepreneurs who are doing business from home. With easy access to the Internet nowadays, more than 50% of companies today are considered home-based. With this insurance, you can cover the business items and the properties damaged in case of natural disaster or theft.
Property Insurance
Property insurance is advisable for a home-based business or companies that have a separate workplace. Aside from the inventory, this also protects the equipment, tools, and even the computers that you use for your business. Moreover, the coverage also extends to events such as theft, fire, vandalism, and other emergencies. Confirm with your business insurance agent if they offer reimbursement for the loss of income as well.
However, damages due to the events considered as Acts of God such as an earthquake, flood, and the likes are not included in a standard property damage insurance. You may add extended coverage for these natural disasters so it can be a part of your policy.
Workers' Compensation
You're putting your business in jeopardy if you don't get a workers' compensation insurance, and one of your employees became injured while on the job. Rather than facing legal and financial obligations in case of an accident, let this type of business insurance protect you and your employee during emergencies.
General Liability Insurance
It will cover customers who meet an accident while using the product or services related to your business. Most of the companies facing lawsuits often regret not getting a general liability policy for their business.
You may also add product liability insurance if you are selling products that might cause injury to your customers if it's defective. Mass produced items, although undergoes strict quality control, may still give out a couple of faulty products in the long run.
Commercial Car Insurance
Business vehicles are often on the road to get more clients, deliver products, and even advertise. Since getting and maintaining vehicles can be quite expensive, it's a good idea that you get a commercial auto insurance for your company.
You can also sign up for a non-owned auto liability for your employees who drive their cars and use it for the growth of your business at the same time.
Personal Umbrella Policy
Regardless of what insurance policy you get, there will always be a limit to the amount of coverage that you can get in case of unfortunate events. With the help of the personal umbrella policy, you will have enough financial help in case your other insurance has already reached its limits.
Data Breach Insurance
No matter how safeguarded you think your information is, there are still ways to get information online. Also known as the cyber liability insurance, this will protect your business when sensitive details leaked including your employees' personal information and your business data.
It can be a little bit overwhelming for a business owner to go through the various types of insurance. But focusing on these eight essential would narrow down your choices and would allow you to make the smart decision.
If you still need more help and clarifications, don't hesitate to contact us at Champagne Team. Our agents will be happy to spread the options and explain the advantages of each type of insurance carefully to your business. Click here to contact us and request for a quote. Or call us at 407-878-7979 so we can schedule a consultation at your most convenient time!
Contact SunGate Insurance Agency today learn more about the type of insurance you need. Click here to contact us or call (407) 878-7979.
SunGate Insurance Agency Coverage
Home Insurance, Auto Insurance, Group Insurance, Property Insurance, RV Insurance, Renters Insurance, Event Insurance, Insurance Bonds, Life Insurance, Business Insurance, Workers Comp, Flood Insurance, Umbrella Insurance and more!
Located in Lake Mary, Florida (serving clients Nationwide and locally in Orlando, Heathrow, Longwood and surrounding Central Florida areas.