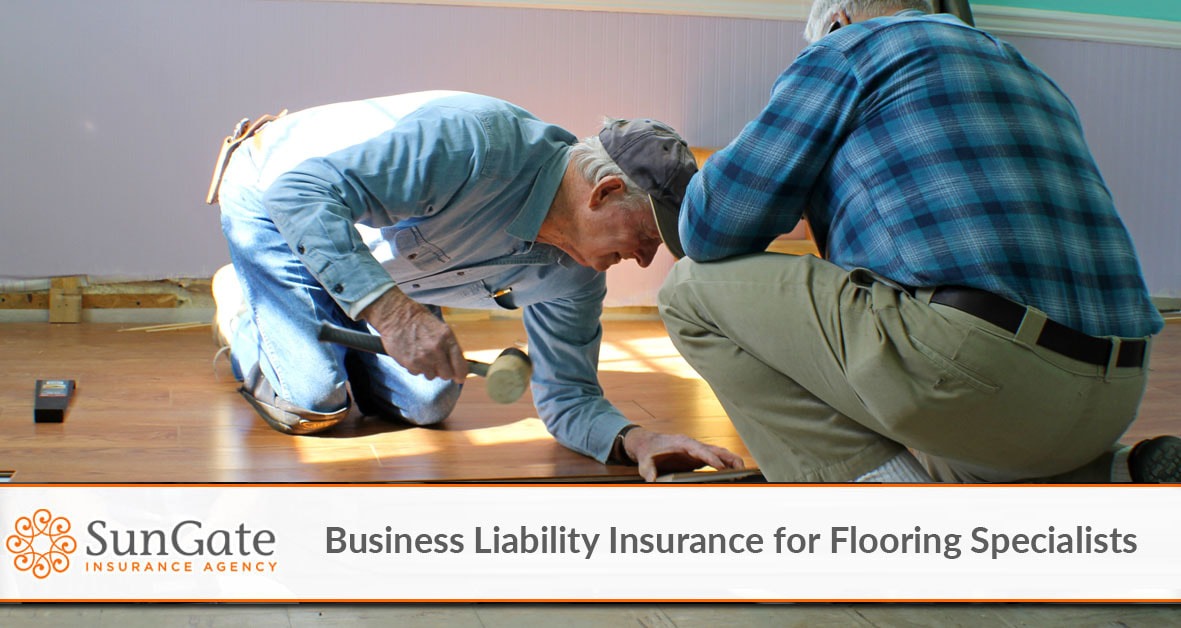 ​Business Liability Insurance for Flooring Specialists

Repairing, maintaining, and installing flooring in residences and commercial buildings is a critical part of a construction industry that is currently booming!
After all, let's face it: every building needs a high-quality, durable, beautiful floor! As a flooring contractor, it is your responsibility to
safely
and
expertly
install exactly the right floor for each and every job, whether it is carpet, tile, stone, hardwood, laminate, linoleum, or other something else altogether. Yet even for the most expert flooring specialist, it is a job that comes with a certain amount of risk: bodily injury to a client or an employee, for instance, or potential damage to the customer's home or place of business. The right business liability insurance—designed specifically to cover the risks associated with flooring contractors—can provide financial protection so a simple accident won't cause financial devastation to yourself and your business.
The Business Owners Policy (BOP): General + Property Liability
The two main types of insurance coverages most flooring contractors require is general liability insurance and property liability insurance. Together, these two coverages will offer most–
but not all
—of the protection your business needs for comprehensive insurance against the most common risks you face in your industry. In most cases, the best way to purchase general liability and property liability insurance is with a Business Owner's Policy, or BOP for short. A BOP generally packages these two policies into one, often at a reduced rate.
Typically, general liability insurance covers:
Bodily injury and property damage: covers the costs of accidents or injuries to non-employees that may arise as the result of your work, including both medical expenses and lawsuits against you stemming from damages relating to your work.
Products and completed operations: covers damage to or caused by either the products you produce and/or completed jobs. This is especially important as it covers you should an error in your work lead to property damage after your services are complete.
Personal and advertising injury: offers coverage in the rare case that you are sued for libel, slander, malicious mischief, and/or copyright infringement. For example, it may be an issue if a subcontractor blames you for a poor recommendation that damages his business.
Damage to premises you rent: may include coverage for damages your business or services cause to buildings, structures, or land that you rent (non-owned), not stemming from natural disaster, for example, or vandalism.

Commercial property liability generally protects you against damages to your flooring contractor's office and/or property. For instance, it will cover the loss of your flooring supplies, tools, and materials should your warehouse or other property be damaged due to fire, natural disaster (excluding flooding), extreme weather, theft, and/or vandalism. It can also include damages stemming from loss of electronic records (such as client billing) and may include coverage for the cost of repairs should your equipment and tools break down.

What the BOP Does NOT Cover

While a BOP does provide financial protection for many of the risks facing flooring installers, it is not a complete and comprehensive insurance policy without some critical add-ons. Most importantly, flooring contractors in Florida are required by law to carry Worker's Compensation Insurance and Commercial Vehicle Insurance in most circumstances

Thus, most flooring contractors will require the following additional insurance coverages to ensure complete protection and compliance with Florida law:

Flood Insurance: Damage to your property, material, and/or equipment stemming from flooding is NOT covered under property liability insurance. You must purchase separate flood insurance specifically for this coverage; this is important in Florida due to the high risk of flooding during and after hurricanes.
Workers Compensation: Florida law requires all employers in the construction industry to carry Worker's Comp insurance if they have at least one employee, even if that employee is only part-time. Worker's Comp covers costs relating to employee injuries, medical expenses, and lost wages.
Commercial Vehicle Insurance: Florida law also requires that any vehicle(s) that you and/or your employees operate for work purposes must be covered under a commercial vehicle insurance policy. They cannot be covered under your personal auto insurance policy.
Contact SunGate Insurance Agency today learn more about the type of insurance you need. Click here to contact us or call (407) 878-7979.
SunGate Insurance Agency Coverage
Home Insurance, Auto Insurance, Health Insurance, Group Insurance, Property Insurance, RV Insurance, Renters Insurance, Event Insurance, Insurance Bonds, Life Insurance, Business Insurance, Workers Comp, Flood Insurance, Umbrella Insurance and more!
Located in Lake Mary, Florida (serving clients Nationwide and locally in Orlando, Heathrow, Longwood and surrounding Central Florida areas.