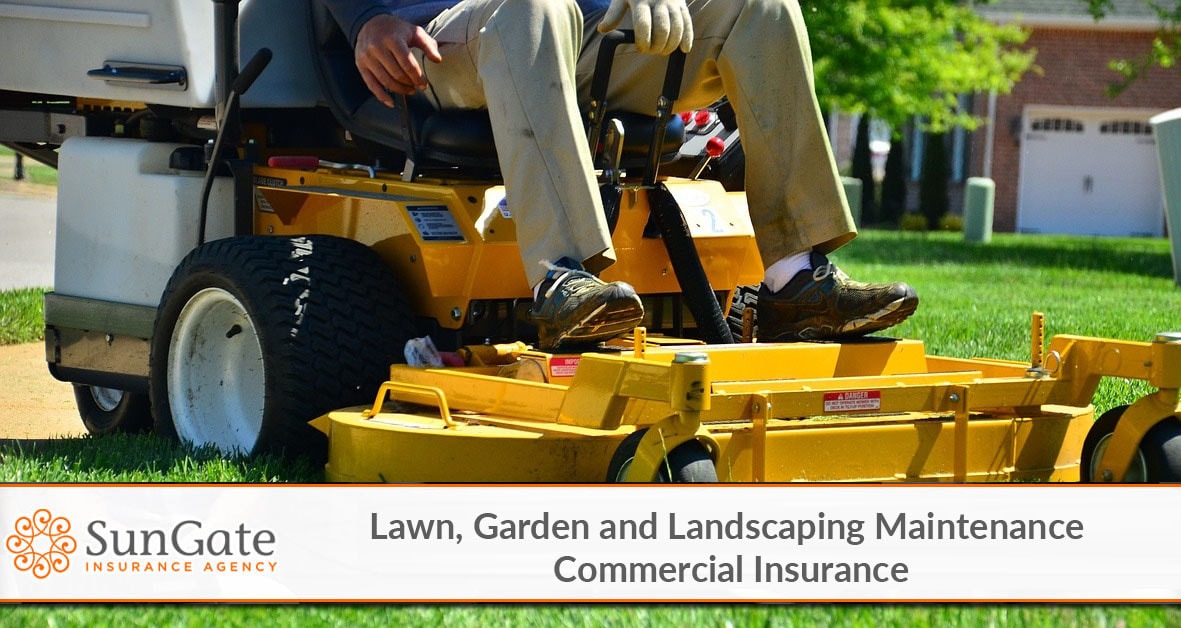 Commercial Insurance for Lawn, Garden, and Landscaping Contractors

The Sunshine State is a great place for anyone interested in a career in landscaping and/or lawn and garden maintenance!
With year-round warm temperatures and moist climate, everyone from homeowners to large-scale condominium buildings to commercial and industrial storefronts wants a green and gorgeous—and well-maintained—lawn and/or garden. And with today's booming economy and thriving construction industry, the opportunities for an enterprising landscaper are seemingly endless.
Yet owning your own landscaping business—even in a booming economy—is not without risk. A successful landscaping business requires purchasing and maintaining a variety of expensive equipment and a fleet of trucks and trailers to move that equipment between jobs. It requires a warehouse and/or parking area where you can store your equipment, tools, and landscaping supplies at night and between jobs. And it involves working with equipment that is potentially very dangerous, even when handled by an experienced and careful crew. For example, what would you do if:
an employee sustains a serious injury while operating mowing equipment
a neighbor's window is broken by a rock thrown by your landscaping equipment
an employee gets into a motor vehicle accident while driving the equipment truck to a job
one of your blowers is stolen off your trailer
some of your equipment is damaged during a storm
a hurricane floods your warehouse, destroying your supply of seeds and fertilizer

Any one of these common workplace accidents could spell financial disaster for you, your business, and even potentially your family if you are not properly protected with a comprehensive insurance policy. The right insurance policy can offer you both financial protection and peace of mind so you don't have to worry should the worst case scenario happen to you.

What Coverages Should Landscaper's Insurance Include?

Because landscaping and lawn and garden maintenance is considered a "higher risk" industry, due to the nature of the work and the type of equipment involved, a landscaping business will usually require more coverages than in a standard business insurance policy. Still, it is quite possible to develop a comprehensive insurance policy that won't break the bank. Some of the coverages that should be included in any landscaping business insurance policy are:
General liability insurance: General liability insurance offers financial protection against lawsuits stemming from bodily injury (to a non-employee) and/or property damage caused by your employees and/or your equipment. For example, general liability will pay for damages to the house on the property where you are working, or even to a neighbor's property if you are found liable for accidents or damages. The amount of coverage you will want will likely depend on the types and size of the projects that you take on.
Property insurance: Property insurance provides financial protection against the loss of or damage to the tools and equipment you own in case of theft, loss, or damage. This can include protection of a parking area where you keep your tools and equipment as well as office property if applicable.
Flood insurance: Property insurance does not include damages caused by flooding. Therefore, it is especially critical in Florida that landscapers (and other business owners) carry separate flood insurance to protect your property against flood damage.
Workers' compensation insurance: "Workers' comp" covers medical expenses and provides financial protection for your employees should they be incur an injury or workplace-related illness.
Commercial auto insurance: Commercial vehicle insurance protects you against financial loss should the vehicles you own and operate as part of your business suffer damage or loss due to theft and/or damage. It also protects you from financial liability in case one of your vehicles causes a traffic-related accident.

When developing your insurance policy, it is important to take into consideration the risks you face in your specific industry (in this case, landscaping and lawn and garden maintenance), the amount of equipment and the number of employees you employ, and the types of work you plan to take on. It is also important to note the specific laws in your state and local area. In Florida, for instance, any business considered "general contracting", which likely includes landscaping contractors, are required to carry Workers' Compensation Insurance if they have at least one employee, either part-time or full-time. Moreover, the law in Florida also requires Commercial Auto Insurance on any business-owned or –operated vehicles.
Contact SunGate Insurance Agency today learn more about the type of insurance you need. Click here to contact us or call (407) 878-7979.
SunGate Insurance Agency Coverage
Home Insurance, Auto Insurance, Health Insurance, Group Insurance, Property Insurance, RV Insurance, Renters Insurance, Event Insurance, Insurance Bonds, Life Insurance, Business Insurance, Workers Comp, Flood Insurance, Umbrella Insurance and more!
Located in Lake Mary, Florida (serving clients Nationwide and locally in Orlando, Heathrow, Longwood and surrounding Central Florida areas.