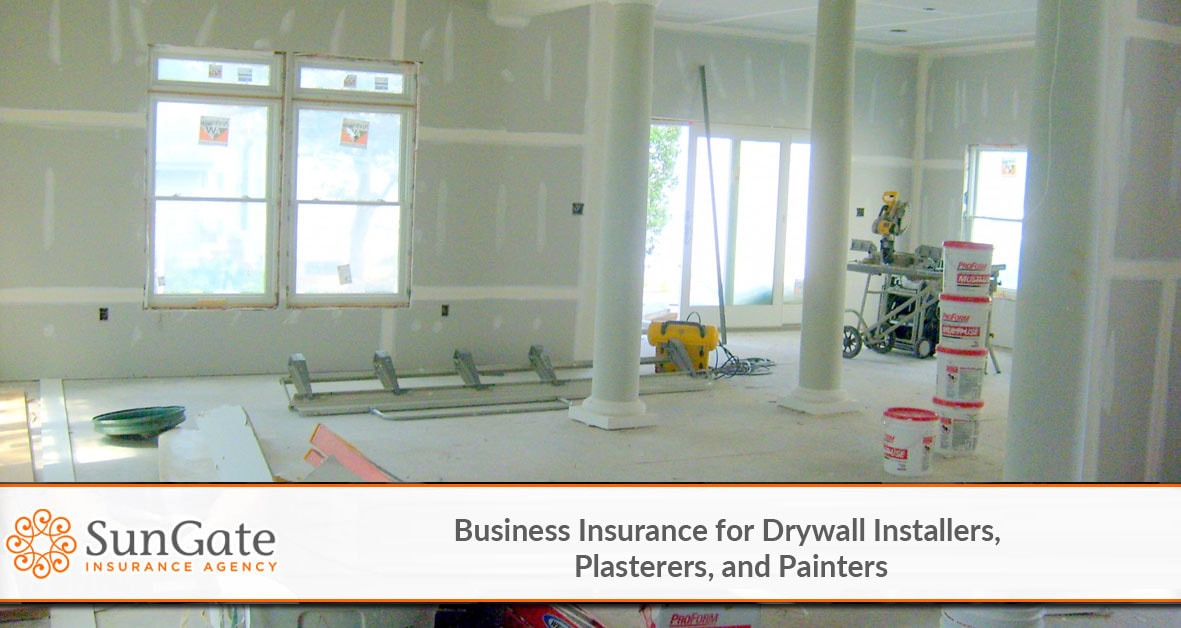 ​Drywall installation, plastering, painting, and papering are a critical specialty in today's construction industry. Whether you work in residential construction, commercial construction, or a mix of both, whether you specialize in one specific area or have a skilled team that can take on a variety of different jobs, careful planning and management is key to the success of your business.
Getting the right business insurance is another key to success; unfortunately, just one fall off a ladder or one broken window at a client's property can wreak financial havoc on your business.
Luckily, drywall installation, plastering, and painting is relatively low-risk compared to other specialists within the construction industry, so it should be possible to put together a comprehensive insurance policy at an affordable rate. Your specific policy will depend on whether you work as an independent contractor or have a team of employees, for instance, as well as the type of jobs you take on, such as large-scale commercial operations or small residential projects. And it's important to be very clear about the various types of work you perform. For instance, if you mainly do drywall installation—but also do some carpentry on the side—it's important to ensure that you are covered for the carpentry work as well as the drywall work!
Speaking generally, a comprehensive business insurance plan for drywall installers, plasterers, and painters should include the following coverages:
General Liability Insurance
The purpose of general liability insurance is to protect you and your business from financial distress stemming from medical expenses and/or lawsuits against you due to an accident or damage caused by you and/or your employees. For example, general liability will cover—up to pre-determined limits—medical expenses if a client is injured by slipping on spilled paint or replacement costs if your employee breaks a valuable vase at a client's property. So typically, general liability insurance covers:
Bodily injury and property damage
Products and completed operations
Personal and advertising injury
Damage to premises you rent

Commercial Property Insurance

While general liability protects you against damage to your client or your clients' property, commercial property liability protects you and your property. Specifically, commercial property insurance offers coverage against damages to your office, supplies, and/or property. For instance, it will cover—up to pre-determined limits—the loss of your drywall, plaster, and/or painting supplies, tools, and/or equipment if your warehouse or other property is damaged in a fire or natural disaster (excluding flooding), or extreme weather, or is the target of theft and/or vandalism. Property liability can also cover damages stemming from loss of electronic records (such as client billing). It may also include coverage for the cost of repairs should your equipment and tools break down.
HINT: Save Money with a Business Owner's Policy (BOP)! For many business owners, the best way to purchase general liability and property liability insurance is to bundle them together into a Business Owner's Policy (BOP), which can reduce your premium.

In Florida, most experts recommend any business that maintains equipment and supplies also purchase Flood Insurance. Unfortunately, water damage to your property, materials, and/or equipment due to flooding is NOT covered under property liability insurance. This needs to be purchased as a separate policy.

Workers Compensation

If you work solo as an independent contractor, you may not need Workers' Compensation Insurance. However, if you hire one or more employees, even part-time, Florida law requires you to carry Workers' Comp (as it is usually called). Worker's Comp covers costs relating to employee injuries, medical expenses, and lost wages for all job-related illnesses and injuries.

Commercial Vehicle Insurance

Whether you work on your own or have a team of employees working for you, Florida law forbids you from covering any vehicle that you use for professional purposes under your personal auto insurance. Therefore, if you use your pick-up to transport yourself and your supplies to and from job sites, you are required to carry Commercial Vehicle Insurance. Obviously, if you own multiple trucks as part of a large contracting business, those vehicles must also be covered under a Commercial Vehicle Insurance policy.

GET A FREE INSURANCE QUOTE
Contact SunGate Insurance Agency today learn more about the type of insurance you need. Click here to contact us or call (407) 878-7979.
SunGate Insurance Agency Coverage
Home Insurance, Auto Insurance, Health Insurance, Group Insurance, Property Insurance, RV Insurance, Renters Insurance, Event Insurance, Insurance Bonds, Life Insurance, Business Insurance, Workers Comp, Flood Insurance, Umbrella Insurance and more!
Located in Lake Mary, Florida (serving clients Nationwide and locally in Orlando, Heathrow, Longwood, Sanford and surrounding Central Florida areas.