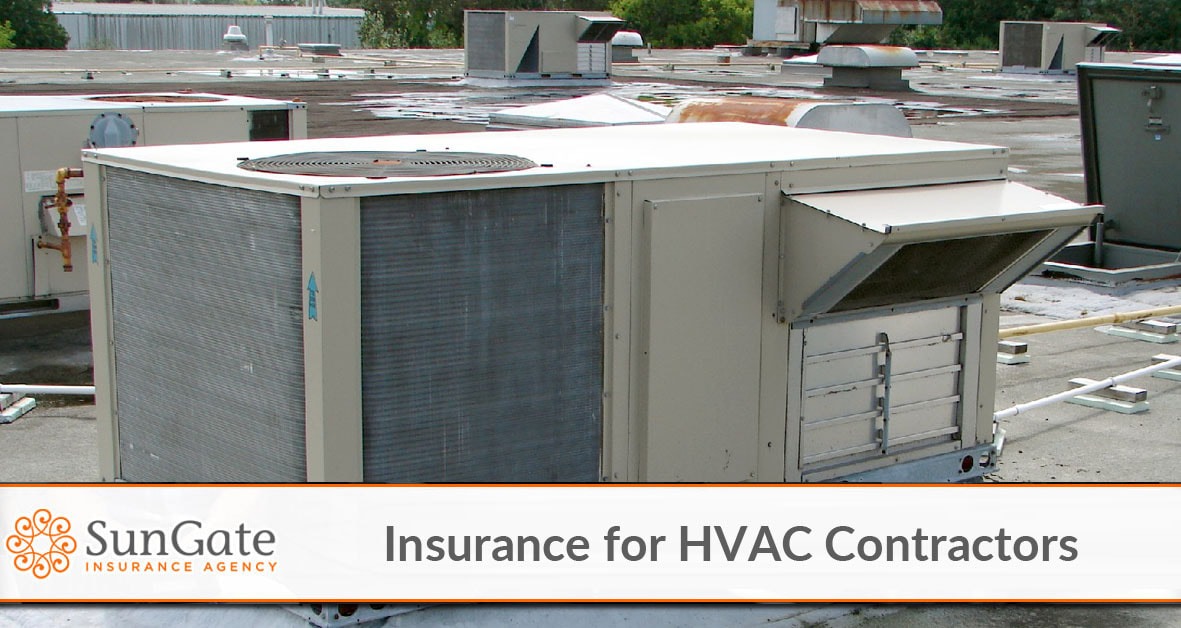 HVAC contractors are in high demand across the country, but especially here in hot, moist Florida, where high-tech air conditioning systems are a necessary must-have in every building, both residential and commercial.
Whether you have a small team dedicated to residential repair jobs or a large-scale business for new office and industrial spaces, your goal is to help ensure that your customers are cool and comfortable all year round!
Unfortunately, however, just as it can take one small problem to shut off an entire HVAC system, it can take a small accident or customer compliant to wreak havoc on your business. At Sungate Insurance Agency, we understand the risks and liabilities associated with the HVAC industry; we understand that there is a lot of liability involved in ensuring that your clients' buildings and homes are cool, dry, and safe all year round. Our goal is to help you find a comprehensive HVAC insurance policy that will protect you and your business from financial loss due to an accident or a costly lawsuit.
Bundle General + Property Liability into a Business Owners' Policy (BOP)
In general, the best way for most HVAC contractors to insure themselves against financial loss due to accidents, lawsuits, and natural disasters is through what is called a Business Owner's Policy. A BOP, as it is called for short, bundles together general liability insurance and commercial property insurance, usually for a discounted premium. Together, these two common insurance coverages will offer most–
but not all
—of the insurance your business requires for comprehensive protection against the most common risks you face in the HVAC industry.
Typically, general liability insurance covers:
Bodily injury and property damage
Products and completed operations
Personal and advertising injury
Damage to premises you rent

Commercial property liability offers coverage in the case of damage to your office or warehouse space and/or your HVAC equipment, tools, supplies, and other property. This is especially critical for HVAC contractors who must purchase, store, and transport thousands of dollars of expensive equipment and materials for each and every job. So commercial property liability will, for example, cover the loss of the HVAC systems you have purchased before install, as well as your installation tools and equipment, should your warehouse or other property be damaged due to fire, extreme weather and natural disasters (excluding flooding), theft, vandalism, and and/or other damages. It may also cover damages stemming from loss of electronic records (such as client billing) as well as coverage for the cost of necessary repairs for your installation and other equipment and tools.

Additional Insurance Coverages for HVAC Contractors

A BOP can provide significant financial protection for many of the risks facing HVAC contractors. However, a truly complete insurance policy must include some critical add-ons. Thus, most HVAC contractors will require some additional coverages to ensure complete financial protection, as well as compliance with Florida law. These additional coverages include:

Flood Insurance
Workers Compensation
Commercial Vehicle Insurance

Understanding the different types of insurances coverages, how they protect you, and the limits of that coverage can be challenging. That's where we come in! At Sungate Insurance Agency, we are insurance experts. We have years of experience working with HVAC and other construction contractors, so we get the unique risks and liabilities that the HVAC industry presents. Moreover, we work with a variety of different insurance companies, so we can help you compare policies and rates to ensure that you are getting the right insurance at the right price. So let us help! Let the local insurance experts at Sungate Insurance Agency develop a comprehensive HVAC insurance policy for you, at a price you can afford!

GET A FREE INSURANCE QUOTE
Contact SunGate Insurance Agency today learn more about the type of insurance you need. Click here to contact us or call (407) 878-7979.
SunGate Insurance Agency Coverage
Home Insurance, Auto Insurance, Health Insurance, Group Insurance, Property Insurance, RV Insurance, Renters Insurance, Event Insurance, Insurance Bonds, Life Insurance, Business Insurance, Workers Comp, Flood Insurance, Umbrella Insurance and more!
Located in Lake Mary, Florida (serving clients Nationwide and locally in Orlando, Heathrow, Longwood and surrounding Central Florida areas.