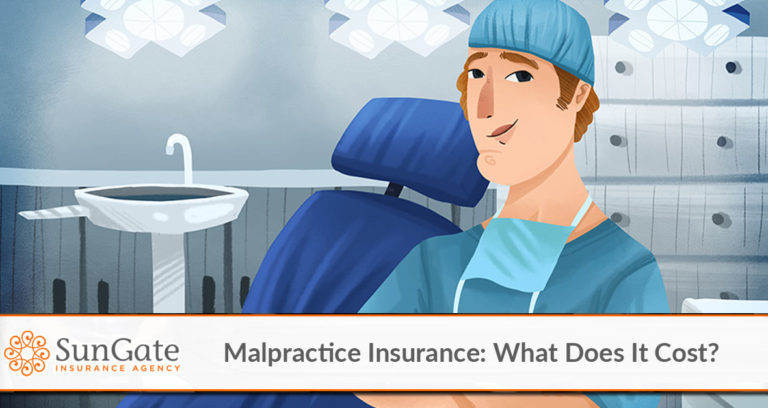 Malpractice insurance is a form of Errors & Omissions Insurance specifically designed to offer medical practitioners financial protection in case of a lawsuit resulting from a mistake or perceived mistake.
Unfortunately, in our litigious society, a vast majority of doctors—across a range of specialties—will face a lawsuit. And unfortunately, a physician may face a lawsuit whether or not he or she truly made a mistake; all too often, patients or family members use a lawsuit as a way to lay blame, to hold someone accountable, for an undesirable outcome. Malpractice insurance help physicians facing a lawsuit cover potentially damaging legal fees, as well as handle any payout should the physician be found liable.
Due to potentially high payouts we often hear about in high profile medical liability cases, it's easy to assume that medical malpractice insurance is exorbitantly expensive. In states like Florida where medical malpractice insurance isn't required by law, some physicians have decided that the cost of malpractice insurance is so high, and the risk of being sued is so low, that they are willing to run the risk of practicing without insurance (sometimes called "going bare" in the insurance industry). Yet the proposition is a risky one: fighting just one lawsuit, whether merited or not, requires significant time and money, and can be both professionally and financially disastrous.
The good news is that for most medical professionals, malpractice insurance is not as expensive as you might think. While lawsuits continue to plague medical professionals across specialties, malpractice insurance rates have generally declined since 2012 due in part to the rise in medical technology and diagnostic tools that have improved patient outcomes, but also due in part to so-called tort reform placing caps on payout amounts. Florida, for instance, had a law capping non-economic damages (damages above and beyond reimbursement of medical expenses); while this law was overturned by the State Supreme Court in 2014, it has not corresponded with a measurable rise in malpractice insurance rates across the state.
Getting the Right Malpractice Insurance at the Right Price
As with most types of insurance, medical malpractice insurance rates are highly variable and depend upon each medical practitioner's unique circumstances. In order to find the best rate for you, with the right level of coverage to offer you financial protection and peace of mind, we recommend working with a local, independent insurance agency that knows both the insurance market in your area, as well as the most reputable insurance companies. An independent agent, like the insurance experts at Sungate Insurance Agency, can also help you compare company quotes to ensure that you really are getting the best available rate.
For the most part, medical malpractice rates are determined by three specific issues:
Specialty: The type of medicine you practice is by far the biggest determining factor in malpractice rates. In general, medical specialists are more likely to face a lawsuit than general practitioners. "High risk" specialties, such as emergency medicine, surgery, and cardiology, require higher malpractice insurance rates; obstetricians and gynecologists face the highest risk of lawsuits and therefore face the highest insurance rates.
Location: Unsurprisingly, where you practice also plays a major role in insurance rates. For example, malpractice insurance rates in Florida tend to be significantly lower than in other states along the East and West Coasts. There is also some small correlation between insurance rates and states that have implemented tort reform and caps on payout.
Coverage: As with all types of insurance, the specific amount of coverage you "purchase" will impact your rate as well. Policies with extended "tails", for instance, will cost more than a policy without a "tail" (a "tail" on your policy enables you to report a claim made against you while you were covered under a different policy). Policies with higher "per occurrence" and "overall aggregate" limits will cost more as well.

Contact SunGate Insurance Agency today learn more about the type of insurance you need.
Click here to contact us or call (407) 878-7979.
SunGate Insurance Agency Coverage:
Home Insurance, Auto Insurance, Health Insurance, Group Insurance, Property Insurance, RV Insurance, Renters Insurance, Event Insurance, Insurance Bonds, Life Insurance, Business Insurance, Workers Comp, Flood Insurance, Umbrella Insurance and more!
Located in Lake Mary, Florida (serving clients Nationwide and locally in Orlando, Heathrow, Longwood and surrounding Central Florida areas.