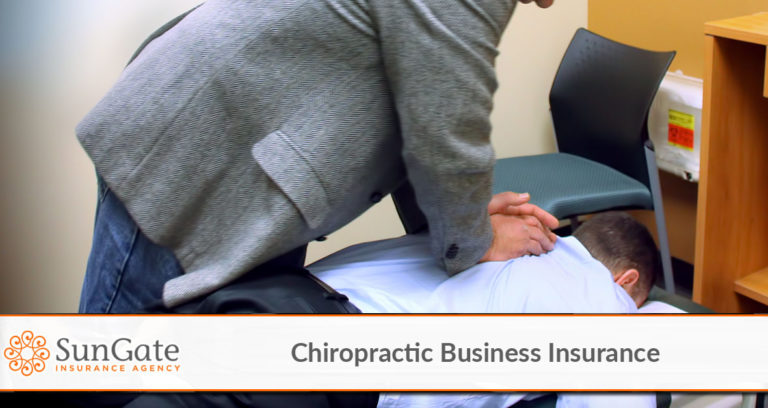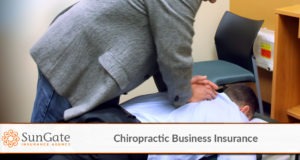 Understanding insurance coverages for medical practitioners in general can be tricky business; this is especially true for chiropractors, most of whom practice on their own, independent of traditional medical offices. ​
Chiropractic Business Insurance
Moreover, in addition to facing the same type of risks common to every small business open to the public and every medical office that treats patients, chiropractors also face some very unique risks. Yet neglecting to comprehensively protect yourself against these risks with the right insurance policy can be financially devastating. A qualified insurance expert—like the independent insurance agents at Sungate Insurance Agency—can help you put together an appropriate insurance policy that will give you financial protection, as well as peace of mind!
A typical insurance package for most chiropractors will include both standard business coverages, specialized coverages relating to the healthcare industry, and some additional coverages to accommodate some of the unique risks facing today's chiropractors.
Standard Business Insurance Coverages for Chiropractors
General Liability: protects your chiropractic business in case a patient is injured or their property damaged while on your premises (not stemming from services you rendered). For example, general liability insurance would protect you in case a client files a lawsuit after falling in your office; it will also protect you against lawsuits relating to libel or slander, for instance if you are sued by a fellow healthcare professional for damaging their professional reputation.
Commercial Property: protects your property—including but not limited to your office space, medical and computer equipment, tools and supplies, and hard-copy records—in case of theft, damage, vandalism, and/or loss, up to the limits of your policy. For chiropractors in Florida, it is important to note that flood damage is not normally included and must be purchased under a special policy
Business Income or Business Interruption Insurance: covers lost income if you are unable to operate your business or treat your patients due to covered property damage.
In many cases, general liability, commercial property, and business income insurance can be packaged together in a bundled policy called a Business Owner's Policy, or BOP, usually at a lower cost.
Extended Coverages for Chiropractors
For some chiropractors, the standard coverages listed above may be sufficient. For some chiropractors, it may make sense to carry additional insurance to protect against traditional limits on coverage that may not match perceived risk. For instance, to extend the limits of some insurance coverages, such as General Liability and Employer's Liability (part of Worker's Compensation, should you operate a chiropractic business with four or more employees, part- or full-time), an Umbrella Liability Insurance policy (or Excess Liability Insurance) may be appropriate.
Product Liability Insurance may be required for chiropractors who sell supplements, or who relabel and sell products under their own business name. Product Liability Insurance may also be appropriate for chiropractors who produce their own treatment equipment or tools, such as orthotics.
If you own and/or operate any type of vehicle for business purposes, Florida law requires that you carry Commercial Auto Insurance. This is true regardless of vehicle ownership: whether you own a commercial vehicle, use your own vehicle for commercial purposes, rent and/or loan out vehicles for your business, or even if you utilize a ride-share car service.
Professional Liability Insurance for Chiropractors
It is especially important for chiropractors protect themselves against financial loss due to lawsuits stemming from professional services rendered. Unfortunately, chiropractors and other specialists within the medical community are especially vulnerable to being sued, even if a mistake or claim of negligence is unfounded. Dissatisfied patients can all too often use lawsuits as a way to find someone accountable or lay blame for an unhappy outcome.
Medical Malpractice Insurance, also known as Professional Liability Insurance (Errors and Omissions Insurance), can offer you financial protection should a patient file a lawsuit against you relating to your advice, treatment, or services rendered. Examples of potential problems that could be covered by professional liability insurance include financial loss and/or bodily injury, failure to provide promised services, and negligence, mistakes, and oversight while caring for patients. Malpractice insurance can also cover expensive legal costs even in the case that the lawsuit is thrown out. However, it is important to be aware of any limits on treatment options within your malpractice insurance; for instance, some policies may exclude acupuncture or "off-label" procedures not approved by the FDA.

Contact SunGate Insurance Agency today learn more about the type of insurance you need.
Click here to contact us or call (407) 878-7979.
SunGate Insurance Agency Coverage:
Home Insurance, Auto Insurance, Health Insurance, Group Insurance, Property Insurance, RV Insurance, Renters Insurance, Event Insurance, Insurance Bonds, Life Insurance, Business Insurance, Workers Comp, Flood Insurance, Umbrella Insurance and more!
Located in Lake Mary, Florida (serving clients Nationwide and locally in Orlando, Heathrow, Longwood and surrounding Central Florida areas.