Furloughed / Laid Off Employee Benefits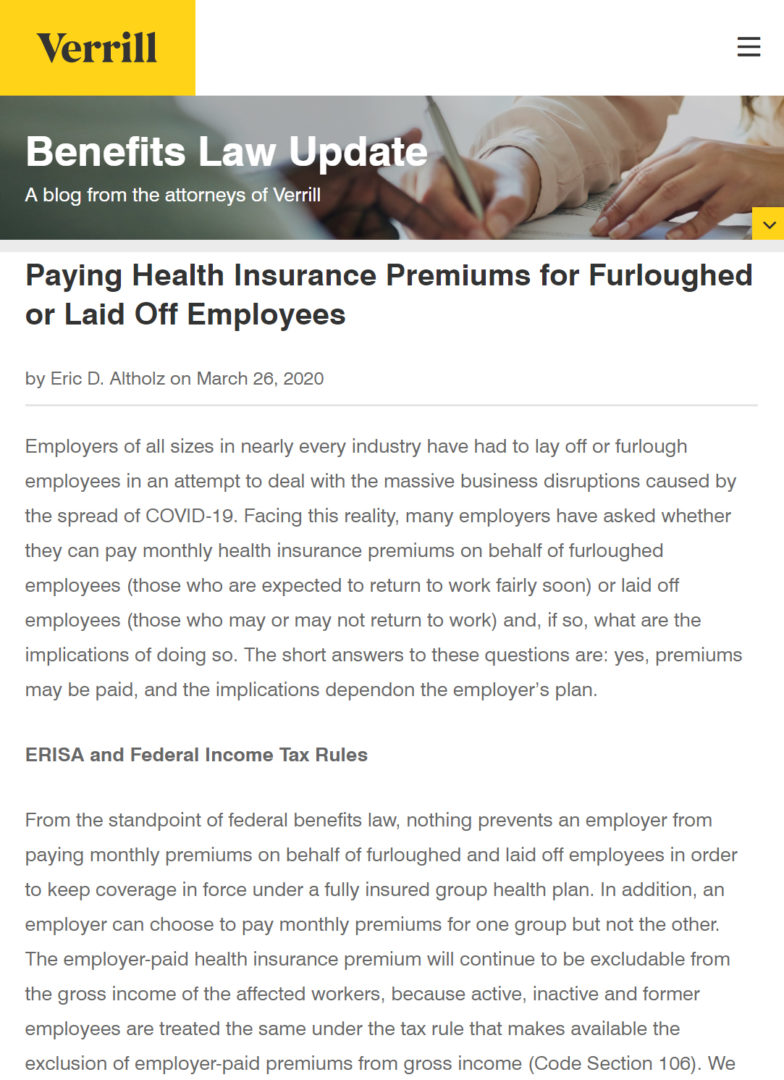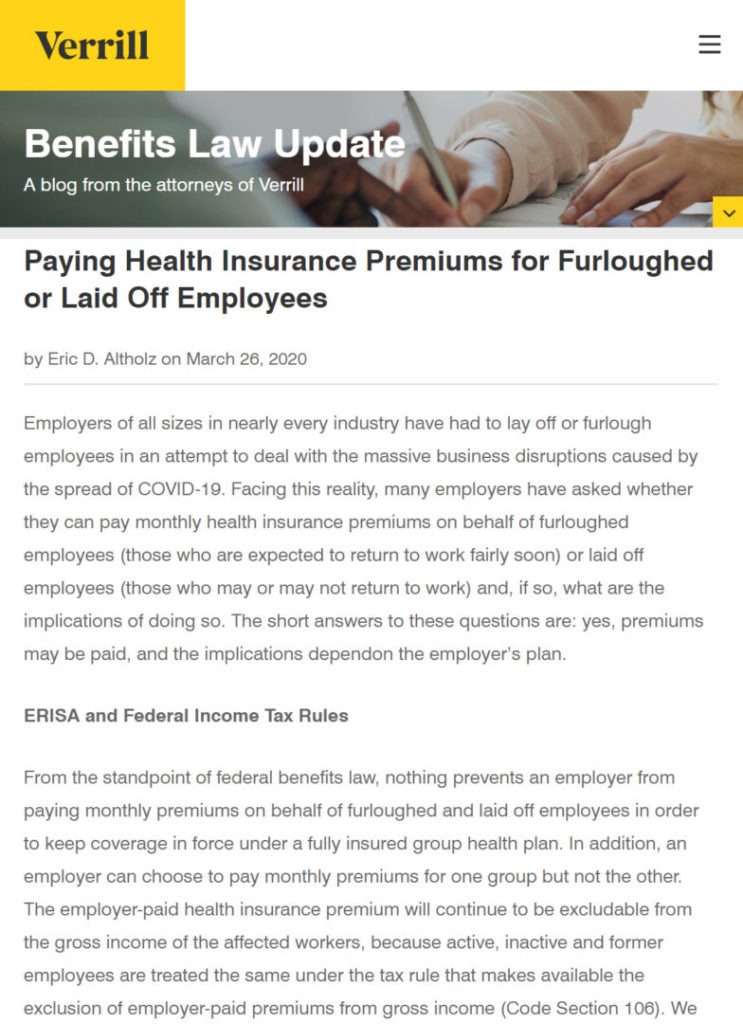 Employers of all sizes in nearly every industry have had to lay off or furlough employees in an attempt to deal with the massive business disruptions caused by the spread of COVID-19. Facing this reality, many employers have asked whether they can pay monthly health insurance premiums on behalf of furloughed employees (those who are expected to return to work fairly soon) or laid off employees (those who may or may not return to work) and, if so, what are the implications of doing so. The short answers to these questions are: yes, premiums may be paid, and the implications dependon the employer's plan.
ERISA and Federal Income Tax Rules
From the standpoint of federal benefits law, nothing prevents an employer from paying monthly premiums on behalf of furloughed and laid off employees in order to keep coverage in force under a fully insured group health plan. In addition, an employer can choose to pay monthly premiums for one group but not the other. The employer-paid health insurance premium will continue to be excludable from the gross income of the affected workers, because active, inactive and former employees are treated the same under the tax rule that makes available the exclusion of employer-paid premiums from gross income (Code Section 106). We understand that insurance carriers are providing the same answer to their employer group customers and are accepting such premium payments and continuing coverage without interruption. But in light of the COBRA issue described below, employers that sponsor fully-insured group health plans should confirm with their brokers or carriers that coverage will continue without the need for a COBRA election as long as the employer continues to pay the premiums. Read More.
Recommendations Regarding Implementation
Need Help to Review Your Insurance Policies? Contact Us.
Contact SunGate Insurance Agency today learn more about the type of insurance you need. Click here to contact us or call (407) 878-7979.
SunGate Insurance Agency Coverage
Home Insurance, Auto Insurance, Health Insurance, Group Insurance, Property Insurance, RV Insurance, Renters Insurance, Event Insurance, Insurance Bonds, Life Insurance, Business Insurance, Workers Comp, Flood Insurance, Umbrella Insurance and more!
Located in Lake Mary, Florida (serving clients Nationwide and locally in Orlando, Maitland, Heathrow, Longwood, Windermere, Kissimmee, Orange County, Seminole County and surrounding Central Florida areas.