Smart Home Water Leak Detectors Save You Money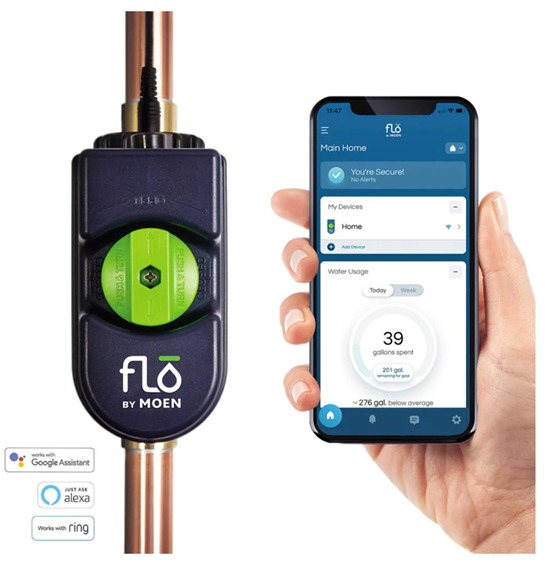 Having a smart water leak sensor is worth every penny when it comes to having some peace of mind, knowing you're proactively protecting your home. We're here with tips on how smart water leak sensors can help if the unexpected happens. Detecting leaks (quickly!) is essential to protecting your home and savings. In-line smart water security devices that monitor your entire home's plumbing can save thousands on home insurance claims. They detect leaks immediately and automatically shut off the home's water to prevent catastrophic damage.
Certain smart water sensors may qualify you to receive a smart home discount on your homeowners insurance policy.
Not only will insurance companies often help with the costs of purchasing the system, many will even go the extra step to ensure that it actually gets installed. This can be done in different ways, from reimbursing the cost to the homeowner directly, to collaborating with leak detection companies to curate a specific product for its homeowners that discounts the cost of either the device, installation, or both! It's a win-win for everyone.
Insurance companies also have other ways to incentivize homeowners to adopt a leak detection system in their homes, besides reducing the setup cost. Each is different, but many offer additional discounts on premiums when you install a smart water monitoring system. Device manufacturers may even offer deductible reimbursements. For example, Flo by Moen, with the optional FloProtect Plan, users can rely on a $5,000 deductible guarantee in the event of unforeseen water damage.
Contact us to help you compare the different insurance companies new smart home programs that save you money and help protect homes from water damage, break-ins, fires and more.
Why Water Detection Smart Sensors?
The data is in; the likelihood of water damage alone makes a strong case for smart sensors. Water damage is the source of most insurance claims — 28.6% of claims, in fact.3 About one in 50 insured homes has a property damage claim caused by water damage or freezing each year.4
Many homeowners don't fully understand the cost of water damage. It's more than just the claims; on average, water damage repairs cost $11,000, and that's before accounting for the loss of irreplaceable items and the accompanying emotional toll.
How Does a Smart Home Water Sensor Work?
Water damage is a common cause of homeowner insurance claims. But most damage — and costs — can actually be prevented with early detection systems, which is exactly what these smart home water sensor systems do.
These devices sense water leaks before they get out of hand, giving you a heads-up if something's amiss with your kitchen sink, washing machine, refrigerator, water heater, dishwasher, toilet or plumbing. The sensor is designed to connect with your smart smartphone, tablet or computer, where you'll be able to track the device. You'll get an alert if the device detects water so you can take action. It puts you in control of what's going on in your home, so you can rest easy.
Automatic water shutoff sensors
Fortunately, smart home innovators are on top of their game. Inventions like smart water sensors that actually shut off the water main when a leak is detected have prevented small issues from escalating into big problems. The result? You can avoid stress, hassle and costly damage. Nice!
Flood detection
When a pipe bursts due to freezing, water damage to a home can result in thousands of dollars in damage. Smart home flood detection systems can help you to get early warning that something's wrong. These small sensors can be placed a few inches above the waterline in a sump pump basin, which potentially offer up early warning that your sump pump has failed. It can help inform you of a problem before a flood even starts!
Fire sprinkler monitoring devices
Because these monitors attach directly to the fire sprinkler, they can be integrated into a broader smart home hub or alarm system. First responders can be contacted if waterflow in your home's fire suppressing sprinkler system detected. Not only will you get help fighting a fire, but the fire department may be able to help to halt waterflow — and halt any further water damage to your home —once the fire's extinguished.
Water usage and bill reconciliation
A key benefit of installing a smart home water monitoring system is that you'll be able to drill into water usage across your home. You'll be able to view usage stats on how much water's been consumed. And you can use this data to help reconcile your water bill.
Find out more about the benefits of smart home technology and gain peace of mind that you're being proactive about your protection. Your Sungate Insurance agent is a great resource to help you discover more about how smart home water sensors and other smart home tech can provide a safer, happier home.
Need Help to Review Your Insurance? Contact Us.

Contact SunGate Insurance Agency today learn more about the type of insurance you need. Click here to contact us or call (407) 878-7979.
SunGate Insurance Agency Coverage
Home Insurance, Auto Insurance, Health Insurance, Group Insurance, Property Insurance, RV Insurance, Renters Insurance, Event Insurance, Insurance Bonds, Life Insurance, Business Insurance, Workers Comp, Flood Insurance, Umbrella Insurance and more!
Located in Lake Mary, Florida (serving clients Nationwide and locally in Orlando, Maitland, Heathrow, Longwood, Windermere, Kissimmee, Orange County, Seminole County, Lake County, Clermont, Leesburg, Mt. Dora, Winter Garden, Davenport and surrounding Central Florida areas.)