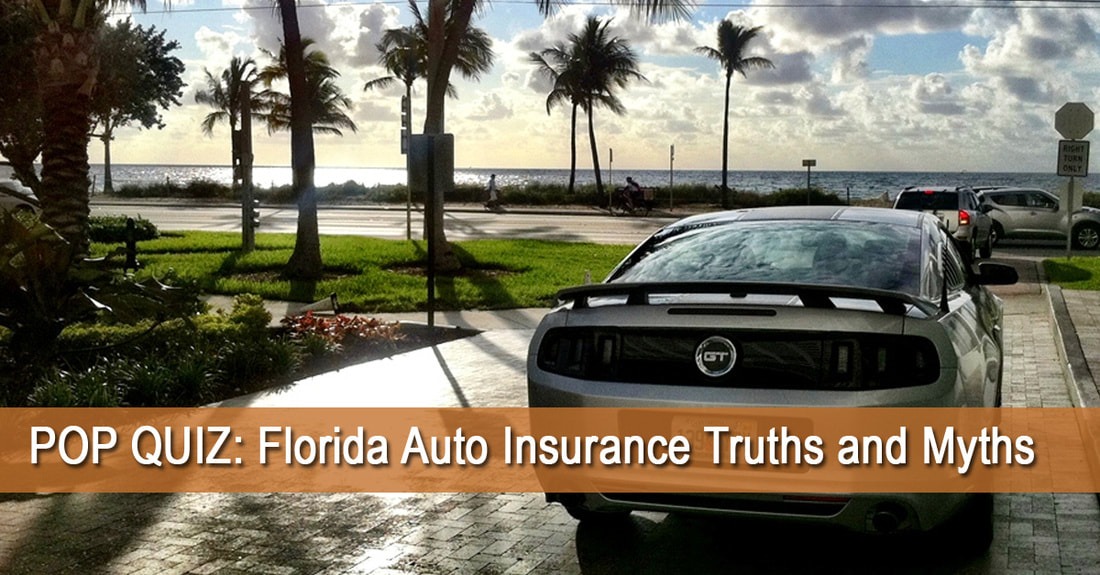 ​​There's a lot of information out there about car insurance that's just plain false. We thought it'd be fun to make a pop quiz to see how well you know the difference between fact and fiction when it comes to car insurance.
Take the Quiz and find out:
​
TRUE OR FALSE: The color of my car affect my insurance rates.
TRUE OR FALSE: If I lend my car to a friend and that friend is in an accident, his or her insurance company will pay for the damage.
TRUE OR FALSE: My insurance rate is set by the government."
TRUE OR FALSE: Since I've paid my insurance premium the new car I just purchased is covered.
TRUE OR FALSE: Male drivers under the age of 25 pay more for auto insurance than any other group.
TRUE OR FALSE: My credit score cannot affect my insurance rate.
TRUE OR FALSE: If someone steals my car my insurance company will pay for it regardless of my policy
TRUE OR FALSE: No-fault insurance means my rates can't go up if I cause an accident.
TRUE OR FALSE: I can use my personal auto insurance for business use.
TRUE OR FALSE: Insurance from the same carrier costs the same no matter which agent I purchase it from
Answers:
1. FALSE – Insurance companies do not factor the color of your car into your rates because there has been no studies that have shown a correlation to accidents and vehicle color.
2. FALSE – Your car is your responsibility! And guess what, even though you weren't present at the time of the accident, you still will receive a mark on your insurance record and your insurance premium could go up.
3. FALSE – The government has nothing to do with your car insurance rate. Where you live, your credit score, marital status and your driving record is what actually affects your premium.
4. FALSE – That new vehicle is not necessarily covered. Some automobile policies require that the policyholder notify the insurance company or agent within a specified number of days, the only way to know for sure is to contact your agent.
5. TRUE – Male drivers under 25 years pay more for insurance than any other group because they are typically involved in more automobile accidents.
6. FALSE – Your credit score really does matter! Many carriers take your credit score into consideration when deciding to increase or renew your auto insurance coverage.
7. FALSE – You need to purchase comprehensive coverage in order to be protected from someone stealing your vehicle.
8. FALSE – That means that your insurance company pays for your damages regardless of who's at fault but it doesn't mean you can't be determined to be at fault for the accident and your rates can go up.
9. FALSE – Although your personal auto policy is probably lenient enough to cover you for certain business uses it may not cover all of them. It's important to talk to a trained agent who know
10. FALSE – Although the rates of each carrier are firmly established based on factual criteria about you that doesn't mean all agents understand how to accurately rate your policy or even get you all the discounts you deserve. At the SunGate Insurance Agency we double-check every single new policy to make sure it's rated properly and our customers aren't overpaying.
There's a lot to be careful of when it comes to auto insurance. Make sure you're working with a qualified insurance agent who knows the local laws here in Florida. For more information about Auto Insurance contact our agency at (407) 878-7979 or click here to get a quote.
Contact SunGate Insurance Agency today learn more about the type of insurance you need. Click here to contact us or call (407) 878-7979.
SunGate Insurance Agency Coverage
Home Insurance, Auto Insurance, Group Insurance, Property Insurance, RV Insurance, Renters Insurance, Event Insurance, Insurance Bonds, Life Insurance, Business Insurance, Workers Comp, Flood Insurance, Umbrella Insurance and more!
Located in Lake Mary, Florida (serving clients Nationwide and locally in Orlando, Heathrow, Longwood and surrounding Central Florida areas.
​