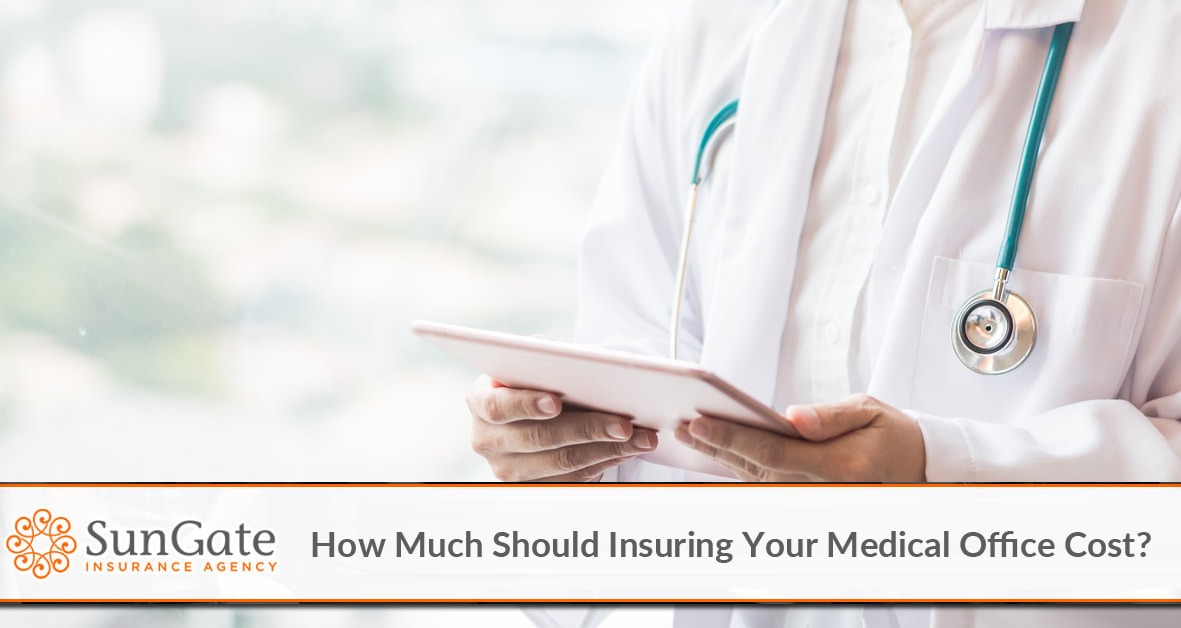 Operating a successful medical practice faces many of the same challenges faced by any small business providing an essential service, such as finding qualified and caring staff capable of providing excellent customer service and maintaining a clean, comfortable, and welcoming office space.
At the same time, however, running a medical practice carries a range of challenges that are unique to the medical industry, like careful handling of personal data and medical records and complying with complicated and ever-changing federal and state legal requirements and privacy regulations.
So it should come as no surprise that setting up a comprehensive insurance policy to protect your medical office involves the same two-fold set of challenges. As with any small business, you must protect your practice against financial loss stemming from damage, theft, and lawsuits. Yet medical practices must protect against financial loss stemming from additional risks unique to the medical field: malpractice lawsuits against staff members or fines and lawsuits relating to privacy laws and data breaches, for instance.
Putting together a comprehensive insurance policy that will protect your medical practice against the worst case scenarios, across all the various types risks medical offices face, can feel daunting. Hiring an independent insurance agency, like Sungate Insurance Agency, can help. Not only can we identify all the various types of coverages your medical office requires, but we can help you understand the factors that impact the cost of your insurance and then shop around, on your behalf, to ensure that you get the best possible insurance, at the lowest possible cost.
What insurance does my medical office require?
When putting together a comprehensive insurance policy, the first step is understanding the specific coverages you need. For most medical practices, a typical insurance package should include mix of standard business coverages and specialized coverages necessary for to the healthcare industry. Thus, in general, most medical insurance practices will include coverages for:
General Liability: protects your business if a client is injured or a client's property is damaged on your premises (not relating to medical services you offer)
Commercial Property: protects your office space, equipment, and moveable property in case of damage, theft, vandalism, or loss
Business Income: protects against lost income if your practice must close or is unable to treat patients due to covered property damage
Commercial Auto Insurance: required only if your medical practice owns and/or operates vehicles for business purposes (such as home health care workers)
Worker's Compensation: Worker's Compensation pays medical bills and lost wages due to job-related injury and/or occupational illness
Data Breach/First-party Cyber Liability: protects against financial loss or lawsuits due to data breach leading to compromise of patient records and/or confidentiality; coverage can also protect against the costs of notifying patients and paying HIPAA fines
Medical Malpractice Insurance (Professional Liability or Errors and Omissions Insurance): protects your practice and staff against financial law stemming from lawsuits relating to advice and/or treatment received at your practice

What factors affect the cost of insurance for my medical office?

Once you have identified your specific risks and required coverages, the next step is to find a way to package all those coverages into a policy at the lowest possible cost. Understanding the various factors that impact the cost of insurance will give you a better idea of what your insurance will cost, and whether you are getting "the right price" without compromising coverage. The good news is that an independent insurance agency, such as Sungate Insurance Agency, can help you compare quotes from a range of insurance companies to ensure that you are getting the best available insurance at the best possible cost.

One of the most common factors impacting the cost of small business insurance is the size of your practice: number of employees, number of clients, anticipated yearly revenue, square footage of office space, etc. You may also need to consider higher coverage limits to protect expensive medical equipment and tools, hard-copy patient records, computers, and other "moveable" property located within your office space. The location of your office is important as well, especially if you need to protect against flood damage (critical in the state of Florida), as most standard insurance policies do not protect against water damage due to flooding.

And again, as a medical practice, there are a number of unique factors that will impact the cost of your insurance as well. First and foremost, the specialty or specialties offered by your medical practitioners will significantly impact the cost of malpractice insurance. For instance, "high risk" specialties, such as obstetricians and gynecologists, surgery, and cardiology, face the greatest risk of malpractice and therefore require higher malpractice insurance rates. The specific amount of coverage you "purchase" will also impact your overall rate. For instance, policies with higher "per occurrence" and "overall aggregate" limits will cost more.
Contact SunGate Insurance Agency today learn more about the type of insurance you need. Click here to contact us or call (407) 878-7979.
SunGate Insurance Agency Coverage
Home Insurance, Auto Insurance, Health Insurance, Group Insurance, Property Insurance, RV Insurance, Renters Insurance, Event Insurance, Insurance Bonds, Life Insurance, Business Insurance, Workers Comp, Flood Insurance, Umbrella Insurance and more!
Located in Lake Mary, Florida (serving clients Nationwide and locally in Orlando, Heathrow, Longwood and surrounding Central Florida areas.