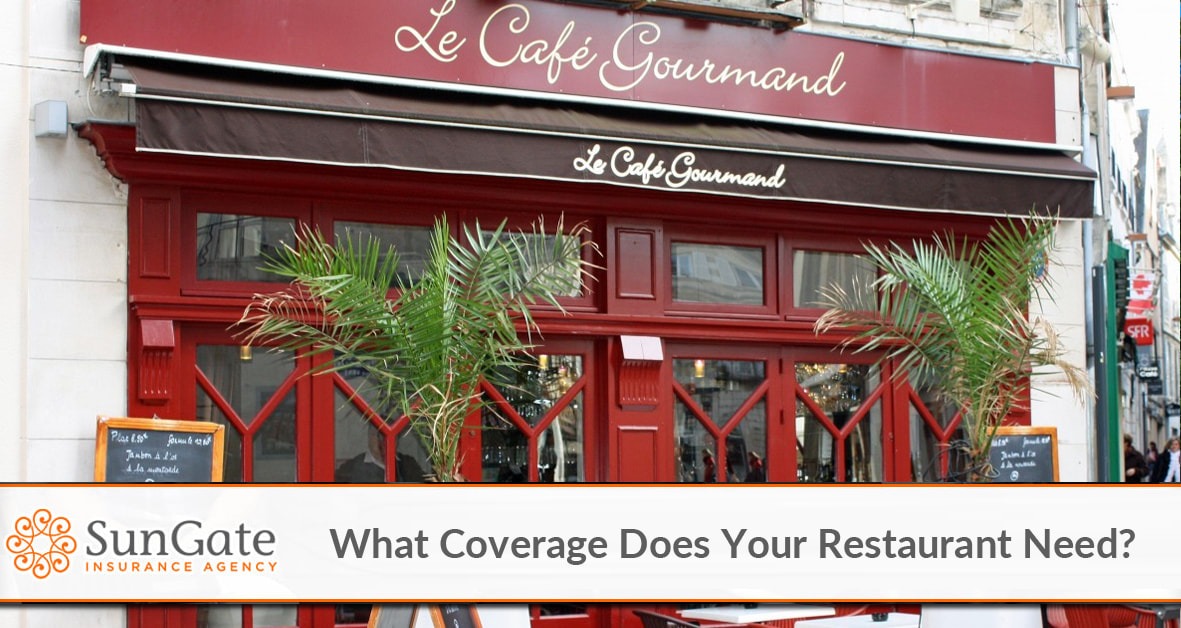 Opening a new restaurant is an exciting, demanding challenge. Some of these challenges are fun: creating a fun yet sophisticated atmosphere and choosing a tasty and memorable menu, for instance.
Other challenges are more mundane: hiring friendly staff, for example, and building relationships with reliable vendors. But all that hard work can pay off in a big way when you see the crowds gathering on your big opening night!
Yet opening and running a successful restaurant is a business and unfortunately, the restaurant business comes with a number of unique risks. And nothing will undermine your new business more quickly than not being properly prepared to manage those risks. The key to mitigating risk in the restaurant business is a
comprehensive restaurant insurance policy
tailored to meet the specific demands of your restaurant. The insurance experts at SunGate Insurance Agency will work closely with you to develop a restaurant insurance policy that will protect your peace of mind without undermining your bottom line.
Restaurant Insurance Basics: What You Need To Know
A comprehensive insurance policy for your restaurant must include a variety of different types of insurance to protect your business against the myriad of different risks the restaurant business presents. The specific types of insurance, as well as the level of coverage, may vary depending on your specific restaurant type. Here are a few of the basics most restaurant businesses will require:
Property Insurance: protects your restaurant's premises in case of fire, theft, vandalism, and other building-related damage. Insurance against flood damage, even if caused by a hurricane, as well as other natural disasters such as earthquakes must be covered separately.
General Liability Insurance: protects you and your business against third-party claims such as bodily injury, personal injury, and property damage. This covers injury to your customers, for instance, if someone should slip and fall on a wet floor. It may also include product liability insurance, which would cover you in case someone becomes ill after eating your food.
Liquor Liability Insurance: if your restaurant manufactures, sells, and/or serves alcohol, you will be required to have liquor liability insurance. This will protect you against lawsuits should a patron—after drinking alcohol at your establishment—injury himself or someone else, cause property damage, or is involved in a motor vehicle accident.
Workers' Compensation Insurance: protects you and your business should an employee be hurt while at work. Most states, including Florida, require that all employers carry some type of workers' compensation insurance.
Commercial Auto Insurance: if your restaurant is a food truck, makes deliveries, or offers valet parking, you will need a commercial auto insurance policy as part of your restaurant insurance. It is important that you not utilize or rely on your personal auto insurance to cover vehicles used in the operation of your business.

In addition to these general insurance coverages, you may seek some additional protections in the form of specific peril insurance. These additional coverages can protect you against specified damages such as:

Inventory loss: covers the cost of your stored inventory against spoilage and damage, for instance if your building loses power and refrigeration for an extended period.
Natural disasters: covers your restaurant premises in case of flood, hurricanes, winds, earthquakes and other disasters not normally covered under regular property liability insurance.
Equipment breakdown: covers damages and/or lost income due to equipment failure.

How to Buy Restaurant Insurance

The best way to develop a comprehensive restaurant insurance policy is to work with a local, reputable insurance company that understands the legal requirements of your state and county, as well as the demands and unique risks of the restaurant business. SunGate Insurance Agency is a local, community-based insurance company with years of experience providing insurance to businesses of all sorts across Orlando and central Florida. Our insurance experts are well-versed in the unique demands of the restaurant business and will work with you to develop an insurance portfolio that will protect you from financial loss and grant you peace of mind.

Contact Your Insurance Company—SunGate Insurance Agency—for more information on restaurant insurance or for a free quote today!


​GET A FREE INSURANCE QUOTE
Contact SunGate Insurance Agency today learn more about the type of insurance you need. Click here to contact us or call (407) 878-7979.
SunGate Insurance Agency Coverage
Home Insurance, Auto Insurance, Group Insurance, Property Insurance, RV Insurance, Renters Insurance, Event Insurance, Insurance Bonds, Life Insurance, Business Insurance, Workers Comp, Flood Insurance, Umbrella Insurance and more!
Located in Lake Mary, Florida (serving clients Nationwide and locally in Orlando, Heathrow, Longwood and surrounding Central Florida areas.