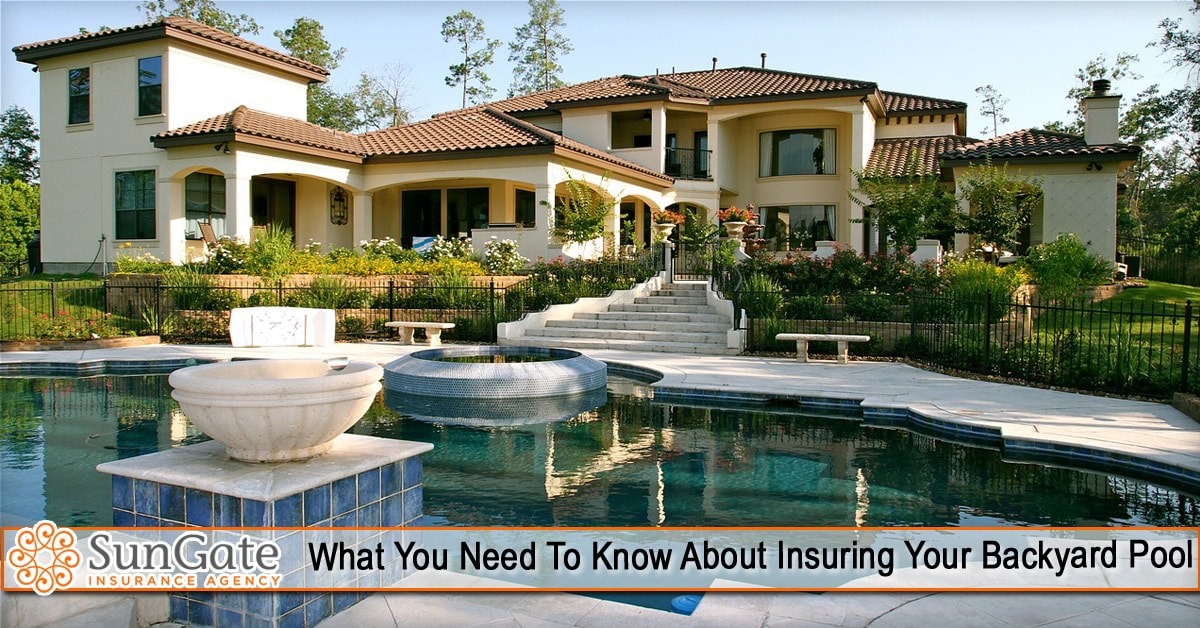 ​Having a swimming pool in your backyard will be a nice luxury over the next few months as you spend time with your family and friends and beat the summer heat. But before inviting them to come over for a dip in the pool you should be aware of your responsibilities as a pool owner. We all know accidents happen, therefore getting adequate coverage may help you with the potential expenses you'll have if an accident happens.
Here are a few things you need to know to gain a better understanding of the important considerations you need to take into account when owning a backyard pool
Homeowners' Insurance Policy Coverage
When you own a pool or planning to install one, you should let your insurer know and always disclose any changes, otherwise you could find that your insurer refuses to cover any claims. Although pools are usually covered by most homeowners' insurance policies, it is smart to discuss and review your coverage to make sure that you have the adequate amount of protection.
These are the two main coverages you might want to have when you own a pool:
1) Property coverage – a typical homeowners insurance policy would likely extend coverage to your backyard swimming pool and cover pool damage caused by a covered peril up to the limits included in your policy. To know whether you need to increase your policy's property coverage limits based on the value of your pool and any accessories (such as a deck or water slide since these may pose higher risks for injury), you may discuss it with your insurer.
2) Liability coverage – Because a swimming pool creates a potential hazard for you as a homeowner and makes you liable for accidents, you'll probably want to consider increasing your limits on this type of coverage. Drowning is one of the major causes of death among children as well as unintentional deaths for people of all ages. In the event that someone suffers an injury at your pool, having this coverage can help you with the medical or legal expenses resulting from the accident.
Generally, a homeowners' policy provides $100,000 in base liability coverage. However, increasing your coverage limits up to $1,000,000 is advised because owning pool, no matter what size, can increase your liability risk. Fortunately, buying large amounts of liability coverage is relatively inexpensive on most homeowners policies.
Opting for Higher Coverage Means More ProtectionYou can always opt for more insurance coverage and boost your liability insurance by purchasing a personal umbrella policy (PUP). This can provide up to $1 million or more in liability coverage in addition to what your regular policy can offer. You may want to discuss this with your insurer to determine whether you have appropriate protection in place.
Pool Safety TipsThere are a few things you can do to help prevent incidents in your backyard pool. And some of these measures might lower your insurance premiums.
Here are 8 safety precautions you can practice to reduce the risk of accidents.
​
Install four-sided fencing (at least 4 feet high) around the pool along with gates that are both self-closing and self-latching, high enough to be out of reach of children
Parents should learn how to swim and make sure they teach their children to swim as well.
Remove toys from the pool and deck so children will not be tempted to enter the area without adult supervision.
Designate an adult to supervise young children at all times, close enough to reach the children. The person should not be involved in any other distracting activity (reading or talking on the phone).
Never use flotation devices as substitutes for supervision.
If you have above-ground pools, take away steps and ladders leading from the ground to the pool when the pool is not being used.
Consider installing cameras and alarms to notify you if someone enters the pool area.
Learn CPR; because time is important in all emergencies, being able to respond promptly can help reduce negative outcomes.
It is essential that you stay proactive with regard to insurance protection as well as in applying safety measures so you can fully enjoy your backyard swims, knowing you are prepared and adequately insured.
Let us know about your pool and the concerns surrounding it. You may contact us at (407) 878-7979 or visit our office today. SunGate Insurance Agency provides professional and friendly service while helping you design a custom insurance package. You may also get a free quote from us by clicking here.