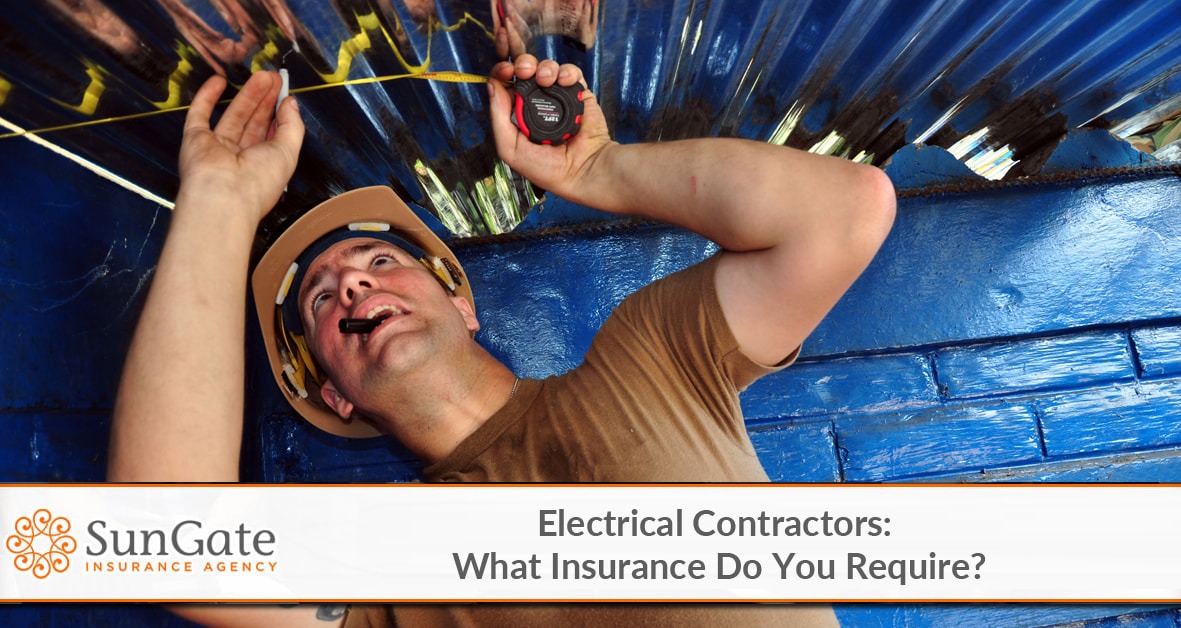 Electricians literally make the world light up! With the building business booming again, demand for skilled and experienced electrical contractors is on the rise.
Yet as you set yourself up in business as an electrical contractor, you may find that starting your own business is even more challenging than learning how to safely and successful harness the power of electricity!
As an electrical contractor, you need appropriate insurance to protect yourself, your business, and potentially even your family and personal possessions from financial damages and financial loss. This is true whether you work independently or you own a small contracting business, whether you work on new constructions or repair existing installations, or whether you work on large commercial buildings or small residential projects. In fact, you may find yourself unable to procure appropriate work without proof that you and your business are properly insured.
What does it mean for an electrical contractor to be "properly insured"? There are several basic criteria that your insurance policy must meet:
Does your policy fulfill legal requirements as laid out by your state, county, and city?
Does your policy adequately protect you and your clients in case of property damage and financial loss?
Does your policy protect you in cases of breach of contract or contract dispute?

Before starting or expanding your electrical contracting business, we recommend speaking with a knowledgeable and local independent insurance agency. A reputable insurance expert will help you understand your professional goals, the scale of your business, and the appropriate legal requirements in order to develop the right insurance policy for you, one that gives you the right coverage without undermining your profit margins.

Electrical Contractor Insurance: An Overview of Basic Coverages

At a minimum, electrical contractors doing business in Florida will require an insurance package that offers the following coverages:

General Liability: General liability insurance protects you from financial loss in case you are found liable for property damage to your client's property and/or third-party injury on the jobsite. The amount of coverage you require should be adequate to the size of the projects you work on; many clients will not hire you without proof that you have sufficient insurance to protect their interests.
Workers' Compensation Insurance: Workers' comp protects your employees against financial loss should they suffer a workplace-related accident; it covers medical expenses as well as lost wages due to injury. Florida law requires all businesses in the construction industry to carry Workers' Compensation Insurance if they employee as few as one individual.
Commercial Auto Insurance: Florida law requires all vehicles used for business purposes to be protected with a commercial auto insurance policy. Whether you have one truck or many, commercial vehicle insurance will protect you and your business from lawsuits relating to traffic accidents involving your commercial vehicles.

Additionally, you may want coverages not included in the standard coverages listed above, such as:

Property damage coverage: Covers your office space and basic office equipment, and may include coverage for equipment and tools used on the job as well.
Inland marine/installation floater insurance: Covers tools, equipment, and/or project materials against theft, loss, or damage while in transit between jobs.
Business Owners Package: A BOP is an insurance bundle that brings together the insurance basics into one policy, often at a lower price. It may include professional liability insurance which can cover you in situations where a client refuses to pay or other breach of contract situations.

Contact SunGate Insurance Agency serving Orlando, Lake Mary, Longwood, Heathrow and other Florida-area businesses!

We are the insurance experts at your local insurance company. Contact us today to discuss your electrical business insurance needs or to get a free quote!
Contact SunGate Insurance Agency today learn more about the type of insurance you need. Click here to contact us or call (407) 878-7979.
SunGate Insurance Agency Coverage
Home Insurance, Auto Insurance, Group Insurance, Property Insurance, RV Insurance, Renters Insurance, Event Insurance, Insurance Bonds, Life Insurance, Business Insurance, Workers Comp, Flood Insurance, Umbrella Insurance and more!
Located in Lake Mary, Florida (serving clients Nationwide and locally in Orlando, Heathrow, Longwood and surrounding Central Florida areas.