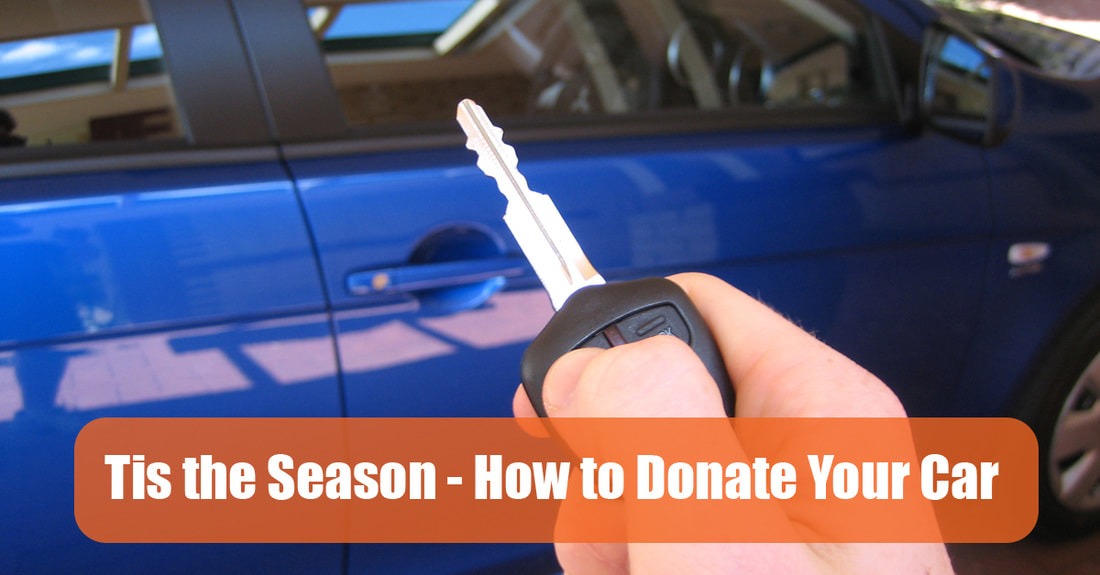 The holiday season is a great time to help others, and donating your car to a worthy cause can be a great way to aid those in need. Still, making a donation can be tricky if you want a reputable charity to make the most of your gift. Make sure you know how to donate your car, truck or SUV so that the charity you choose benefits as much as possible in the season of giving.
​

Find the Right Charity
You might want to consider giving your car to a worthy cause that directly accepts donated vehicles, which will help ensure that the charity gets the most money possible when your vehicle is sold for profit or parts.
While it may seem easier to respond to vehicle donation ads that you see on television or hear on the radio, these commercials are often from for-profit organizations that act as middlemen between you and the charity, and they often keep some of the proceeds.
Even if your first charitable choice doesn't accept vehicle donations, that doesn't mean you should give up hope. Charity Navigator and the Better Business Bureau are resources that can help you find worthy organizations that accept vehicle donations in your area.
If you must use a for-profit agency to get your vehicle to a respected charity, call the the charity to find out how much money will actually be donated. The proceeds that are donated are usually negotiated by the agency and the charity, so you should try to find one that donates the largest amount possible.
Make Sure It's Tax-Deductible
In many cases, you can get a tax deduction by donating your car. However, to get a tax break, you need to make sure that you're donating to an IRS-approved charitable organization. A common type of qualified charity is a 501(c)(3) public charity status organization. Churches, mosques, synagogues and temples often meet these requirements, but you can also find qualifying organizations by asking charities for copies of their federal tax-exempt status documents, or by searching the IRS website.
Deliver the Biggest Donation Possible
When a charity has to retrieve a donated vehicle from your house, it often must to pay someone to either tow it or pick it up. However, you can help reduce the charity's expenses by dropping the car off yourself.
Do Your Paperwork
Whenever you donate a vehicle, you must transfer its title to the new owner; check with your state's department of motor vehicles for information on how to do this. Remember that the charity will probably sell your car for proceeds, which could lead to problems if it's still legally in your name and the new owner doesn't register it. If you don't completely transfer ownership of your vehicle, you could be held responsible for violations committed in the car after you donate it, such as parking tickets that aren't yours.
Prepare for Tax Deductions
The amount you can deduct on your taxes because of a vehicle donation depends on the "gross proceeds" from the charity's sale of the car, according to the IRS. Charitable organizations are required to tell you how much your donation sold for within 30 days of the sale, so if you haven't heard from the charity within a month, you should call and ask about the status of your donation. If your vehicle sells for more than $500, the charity must send you a written acknowledgement with details about your donation and the sale of the vehicle, including how much the vehicle was sold for.
If the charity itself decides to use the vehicle, or if it gives the car to someone in need, sells it for a much lower price than its fair market value to someone who needs it, or improves the car before selling it, the IRS says you may be able to deduct the car's fair market value on your tax return. You can find your vehicle's fair market value on sites like Kelley Blue Book.
While donating your car before the New Year may help you get a tax break in April, these steps will help ensure that the charity gets the most it can from your gift this holiday season.
For more information about the insurance implications related to vehicle donations or to get a quote on the new car contact our agency at (407) 878-7979 or click here to get a quote today.
Contact SunGate Insurance Agency today learn more about the type of insurance you need. Click here to contact us or call (407) 878-7979.
SunGate Insurance Agency Coverage
Home Insurance, Auto Insurance, Group Insurance, Property Insurance, RV Insurance, Renters Insurance, Event Insurance, Insurance Bonds, Life Insurance, Business Insurance, Workers Comp, Flood Insurance, Umbrella Insurance and more!
Located in Lake Mary, Florida (serving clients Nationwide and locally in Orlando, Heathrow, Longwood and surrounding Central Florida areas.
​