Health Insurance
For
Your
Small Business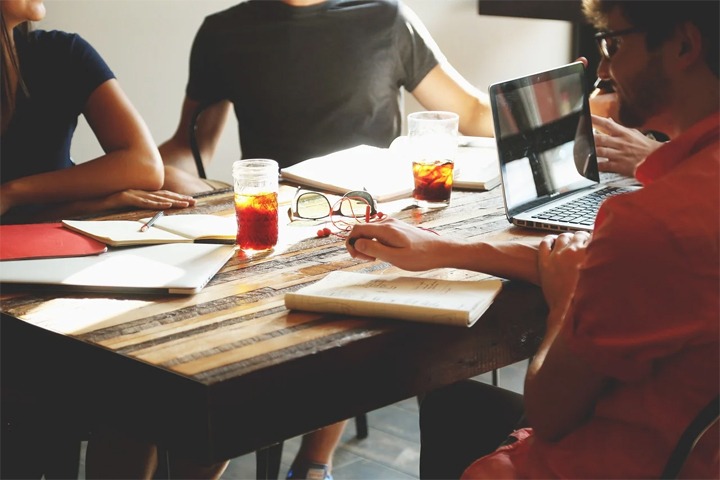 Including group health insurance in your employee benefits package offers your company several important advantages. First and foremost, a quality health insurance plan makes it significantly easier to recruit top talent. A comprehensive benefits package also signals to your employees that you care about and are invested in their happiness and well-being. And satisfied employees are less likely to be lured away by the competition.
The key for your business, therefore, is finding a group health insurance plan that appeals to your team but doesn't undermine your bottom line.
Luckily, there are a variety of options available on the market today when it comes to group health insurance. Understanding the factors involved in your decision—and reading through all the fine print—can be challenging and time consuming. But the benefits to your business of offering group health to your employees will make that initial investment of your time pay off in the end.
Here are a few critical questions you should answer as you investigate and choose a health insurance plan for your business.
What Types of
Group Health
Plans Are Available
To Me
?
The traditional corporate health insurance is a Defined Benefit Plan. You choose the type of plan or plans and pay a percentage of the cost on behalf of your employees. Your employees buy into the plan with pre-defined monthly premiums. Because you share the cost with your employees, their premiums are less than they would pay if they purchased individual insurance on their own.
Defined benefit plans are available as Health Maintenance Organizations (HMO), Preferred Provider Organizations (PPO), and Exclusive Provider Organizations (EPO). HMOs are usually less expensive for you, but limit your employees to health care providers within a specific network. PPOs may be more expensive but offer your employees greater choice in providers. EPOs are a mix of the two: employees must stay within their network but do not need referrals for specialized care.
There are several alternatives to the traditional defined benefit plan, however. Under a Defined Contribution Plan, for instance, you pay a pre-defined allowance to your employees that they must use to purchase an individual plan in the marketplace.
Another option that can be attractive for small business with fewer employees is a Professional Employer Organization (PEO). PEOs offer a way of outsourcing all HR functions, including health insurance. While PEOs can help you offer a more competitive benefits package, the cost to you may be higher because you are paying the PEO to take over all of your HR functions, not just health insurance.
What Plan Should I Offer to My
Employees
?
As you consider your different options for health insurance, it's important to think about the specific needs of your employees.
If the majority of your employees are young, you may want to consider a plan that they can buy into with lower premiums. Young people tend to have fewer medical problems, and may be less interested in comprehensive plans with extensive coverages that they are unlikely to need. The risk to them lies in higher deductibles and out-of-pockets cost should they have a medical emergency.
If the majority of your employees are older or have families, they may be willing to pay higher premiums for lower out-of-pocket costs and comprehensive coverages such as family plans, dental and vision, mental health, and maternity coverages, for example.
What Will Offering Health Insurance Cost My Business?
Obviously, when thinking about offering group health insurance to your employees, the cost of that plan to your company must be an important factor. You will have to balance the financial impact on your business and the long-term return on investment that may result from including group health in your benefits package.
The key is balancing types and levels of coverage, the cost of the plan, and how much you pay versus how much your employees pay. Asking your employees to shoulder a large share of the cost will keep your costs low, but may leave your employees feeling dissatisfied with the plan, undermining the benefit of offering group health in the first place.
Who Can I Ask for Help With Health Insurance Decisions?
Understanding all the details and fine print required to make the right decision for your company and your employees can be overwhelming and time consuming for your HR employees. Seeking advice from an independent insurance agent can help. An insurance agent can work with you to understand all of your different options and help you structure the right plan for your business.
Best of all, an independent insurance agent can collect quotes from multiple insurance companies and shop around on your behalf to ensure that you are getting the best plan at the best price. So don't hesitate to ask for help navigating this tricking issue: contact Sungate Insurance Agency today!
Need Help to Review Your Insurance? Contact Us.

Contact SunGate Insurance Agency today learn more about the type of insurance you need. Click here to contact us or call (407) 878-7979.
SunGate Insurance Agency Coverage
Home Insurance, Auto Insurance, Health Insurance, Group Insurance, Property Insurance, RV Insurance, Renters Insurance, Event Insurance, Insurance Bonds, Life Insurance, Business Insurance, Workers Comp, Flood Insurance, Umbrella Insurance and more!
Located in Lake Mary, Florida (serving clients Nationwide and locally in Orlando, Maitland, Heathrow, Longwood, Windermere, Kissimmee, Orange County, Seminole County and surrounding Central Florida areas.