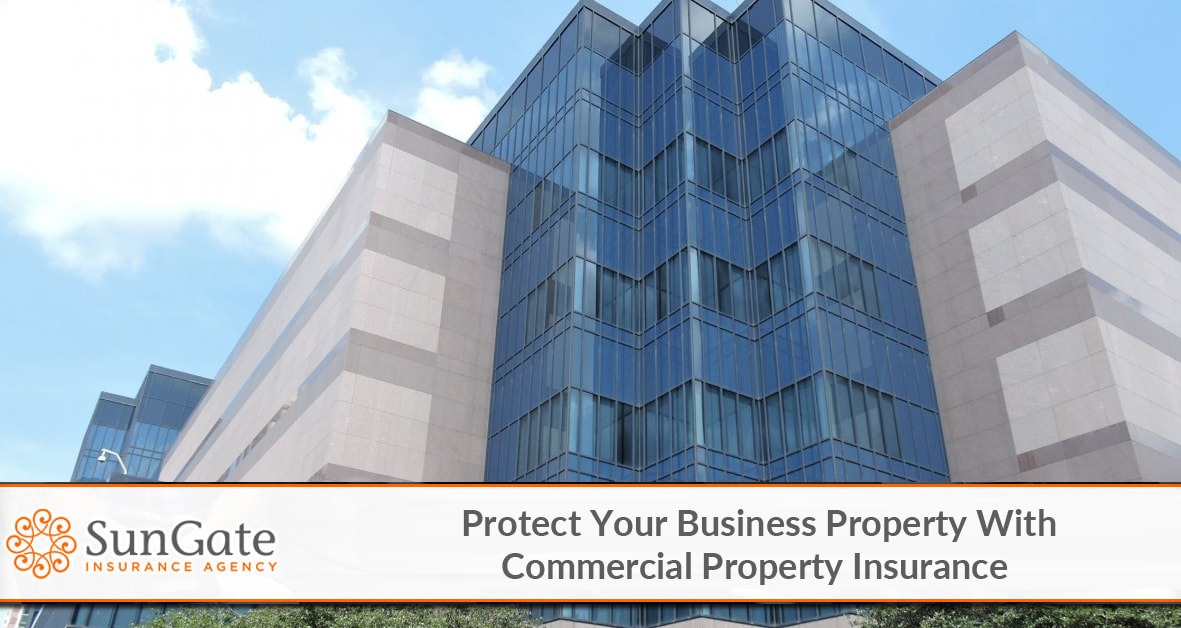 ​You already know that if you own your own home (or hold a mortgage on your home), you must insure that home, as well as most of the contents of that home, with a homeowner's insurance policy. The same is true for property owned by your business: to protect your business against theft, fire, and other damage by natural or man-made disaster, it must be covered by a commercial property insurance policy.
Simply put,
commercial property insurance
protects your business from the risk of loss due to damage or destruction of buildings, structures, and personal property owned by that business. However, while homeowner's insurance is usually a standardized policy based on the size of the property, commercial property insurance is specifically tailored to meet the unique needs of each company, based on an individual review and assessment of the property. Moreover, commercial property insurance often offers a variety of flexible options based on the unique risks your business may face; coverage can be based on an all-risk assessment or on the basis of specific perils.
Although commercial property insurance can be a stand-alone policy, many corporations find it convenient to incorporate commercial property insurance into a Business Owner's Package, or BOP for short. A BOP is a general insurance policy that combines a variety of property protection and liability risk into one larger bundle. Bundling policies in this way can be a more cost-effective way to obtain total protection for your small- to medium-sized business.
What Does Commercial Property Protection Cover?
Commercial property protection is not a one-size-fits-all type of policy, but will be individually tailored to the unique needs of your business. So any list of items covered by commercial property insurance can only provide a general guide to what may be covered by your policy, but should not be considered comprehensive. Instead, we encourage you to speak to one of our commercial insurance experts at Sungate Insurance Agency to understand how we can best address your specific requirements.
Some items that may be covered by a commercial property insurance policy include:
Your building
Buildings you lease or rent to others
All other structures located on property owned by your business
Business personal property (Contents insurance): furnishings, fixtures, and some inventory owned by your business. May also cover property owned by employees of your business.
Business income: to help compensate for lost revenue due to business interruption caused by damage to or loss of your business' property
Loss of rental income

In order to determine the type of required coverage, as well as appropriate limits on coverage, an assessment must be performed and your property rated to determine risk and coverage. This will usually include a comprehensive property inspection, applications, submissions to markets, and a review of the buildings' history. Our commercial insurance experts can walk you through the entire process to ensure that you get the right coverage, at the right price.

What Does Commercial Property Protection NOT Cover?

It is important to note that commercial property insurance is not a comprehensive insurance plan, and excludes some critical commercial items that usually must be insured under a separate type of policy. Some important exclusions include:

Commercial vehicles
Land
Movable property such as tools and equipment, computers, etc
General liability
Flood & earthquake damage

Contact Sungate Insurance Agency and speak with one of our insurance experts to develop a Commercial Property Insurance Policy that fits the unique needs of your business!
Contact SunGate Insurance Agency today learn more about the type of insurance you need. Click here to contact us or call (407) 878-7979.
SunGate Insurance Agency Coverage
Home Insurance, Auto Insurance, Group Insurance, Property Insurance, RV Insurance, Renters Insurance, Event Insurance, Insurance Bonds, Life Insurance, Business Insurance, Workers Comp, Flood Insurance, Umbrella Insurance and more!
Located in Lake Mary, Florida (serving clients Nationwide and locally in Orlando, Heathrow, Longwood and surrounding Central Florida areas.