Commercial Property & Casualty Insurance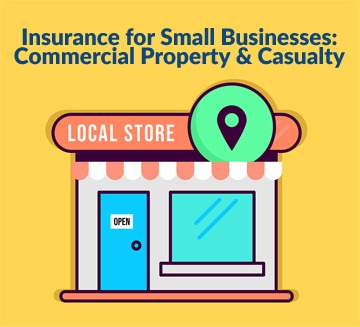 Commercial property and casualty insurance for small businesses is insurance designed to protect small businesses. Commercial property insurance includes the policies that safeguard the small business from a variety of accidents, circumstances and failures.
It helps in the efficient running of businesses and keeps them safe from the losses that they cannot afford to bear themselves. If you need help you can take help from the best insurance agency in Orlando Florida.
Examples of commercial property and casualty insurance include the risk of loss through fire, water, theft, or any other physical loss, etc.
On the other hand, casualty insurance guards you and your business from damages arising from legal claims due to mishaps that harm others, on your property or due to your business services. It includes employee's compensation or customer's protection if harmed by any of your services or product.
Benefits of Commercial and casualty insurance:
Commercial property and casualty insurance are critical for your business success in present and future, especially if you are a small business owner. They cover a wide range of risks that a business cannot afford to pay. That's why they are an essential element for your business. Plus, they guarantee the long-term growth of your business.
Not investing in commercial and casualty insurance can be a huge risk for you as well as your business and employees. Your business can meet any risks, accidents and losses. If you have the right insurance and right insurance company in Lake Mary, it will help you in that bad time. You won't have to worry about the expenses that will occur from those losses.
It comes in combinations that combine several insurances that are beneficial for your business. These insurances will help you cover the losses that might occur in future.
Who needs commercial and casualty property insurance?
This type of insurance can prevent various business risks and are often sold together as package policies such as a business owner's policy (BOP). To help your business grow, it's crucial to know about the purposes of both commercial property and commercial casualty insurance. For this you will require guidance from the best insurance company in Heathrow.
Small businesses owning their company propositions that houses business property & communicate with the people, sells their products or services, or promotes their business requires commercial property & casualty insurance.
When you're getting commercial property and casualty insurance, it's essential to get an expert insurer whom you can trust. Choose the best insurance agency in Longwood for your business.
Commercial property & casualty insurance are not obligated by law, but it's critical for every business because it gives security from damages due to immediate physical loss or damage.
Need Help to Review Your Insurance? Contact Us.

Contact SunGate Insurance Agency today learn more about the type of insurance you need. Click here to contact us or call (407) 878-7979.
SunGate Insurance Agency Coverage
Home Insurance, Auto Insurance, Health Insurance, Group Insurance, Property Insurance, RV Insurance, Renters Insurance, Event Insurance, Insurance Bonds, Life Insurance, Business Insurance, Workers Comp, Flood Insurance, Umbrella Insurance and more!
Located in Lake Mary, Florida (serving clients Nationwide and locally in Orlando, Maitland, Heathrow, Longwood, Windermere, Kissimmee, Orange County, Seminole County and surrounding Central Florida areas.