What Does Restaurant Insurance in Florida Cost?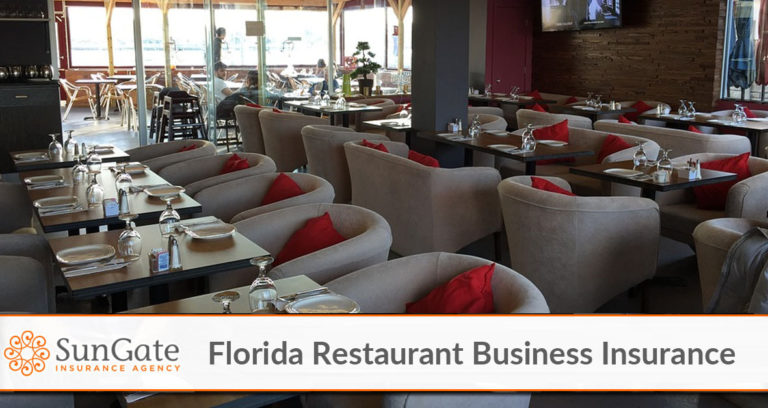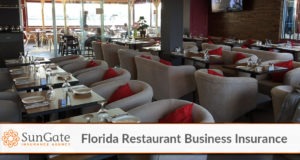 To your patrons, running a restaurant looks a piece of cake: put together a menu, hire a chef and bartender, and you're done!
In fact, managing a successful restaurant business requires much, much more than that, including a whole lot of nitty-gritty paperwork that is boring and tedious, yet ultimately critical to the success of your restaurant. And if that behind-the-scenes work is not done properly, one small mistake or accident can make the restaurant business go from a dream to a nightmare.
One crucial part of that behind-the-scenes work is putting together a comprehensive insurance policy that can offer you financial protection against accidents, illnesses, and lawsuits. The key to developing an appropriate insurance policy requires understand the unique risks of the restaurant business, the appropriate types of coverage you require, and understanding how to balance the right level of coverage at a cost you can afford. Luckily, this is one challenge you do not have to handle on your own: the local, independent insurance experts at Sungate Insurance Agency can help you research and purchase the right restaurant insurance for your business.
Unfortunately, it's simply not possible to purchase a pre-set "restaurant insurance package". While the types of coverages you need may be fairly standard, the cost of your unique restaurant insurance will depend on a variety of factors, such as:
The type of restaurant
The size of the restaurant
The location of the restaurant
The number of workers you employ
Whether your restaurant provides on-site catering or makes deliveries
How much coverage you want
At Sungate Insurance Agency, we can help you translate these specific features of your business into an appropriate and affordable insurance package that will help protect you from financial loss and give you peace of mind.
Types of Restaurant Insurance Coverages
As noted above, an appropriate restaurant insurance portfolio must be composed of a variety of different types of insurance coverages to match your unique restaurant and ensure protection against the different types of risk that the restaurant business involves. In general, however, most restaurant insurance packages will involves some combination of these coverages:
Property Insurance: covers your restaurant's physical premise against damaged caused by fire, theft, vandalism, and most (not all) natural disasters. Flood insurance (and earthquake insurance) must be purchased separately.
General Liability Insurance: protects your business—and you—against third-party claims for personal injury and property damage. For instance, this covers medical expenses and the cost of a lawsuit if a customer trips and falls. It can also include product liability insurance, which would protect you should a customer claim to become ill from your food.
Liquor Liability Insurance: critical for any restaurant that manufactures, sells, and/or serves alcohol. Liquor liability protects against lawsuits stemming from the actions of a customer who drank alcohol at your restaurant.
Workers' Compensation Insurance: covers medical expenses and lost wages for an employee who suffers a work-related injury or illness. In Florida, any employer with four or more employees (full- or part-time) must have Workers' Compensation.
Commercial Auto Insurance: if your restaurant utilizes any type of vehicle to fulfill the requirements of the restaurant, the vehicle(s) must be covered under a commercial auto insurance policy.
Specific peril insurance offers some additional coverages against specified damages like:
Inventory loss: covers the cost of your stored food and other inventory against spoilage and damage
Natural disasters: covers your premises in case of flood, earthquakes, and other disasters not covered under property liability insurance
Equipment breakdown: can protect against damages and/or lost income due to equipment failure
Opening and running a successful restaurant can be rewarding, but it can also be challenging. Finding the right insurance policy to ensure that you are fully protected against the worst case scenario does not have to be the challenging part. Let your local insurance experts at Sungate Insurance Agency do the hard work on your behalf: we can develop a comprehensive restaurant insurance policy for you, at a price you can afford!

Contact SunGate Insurance Agency today learn more about the type of insurance you need.
Click here to contact us or call (407) 878-7979.
SunGate Insurance Agency Coverage:
Home Insurance, Auto Insurance, Health Insurance, Group Insurance, Property Insurance, RV Insurance, Renters Insurance, Event Insurance, Insurance Bonds, Life Insurance, Business Insurance, Workers Comp, Flood Insurance, Umbrella Insurance and more!
Located in Lake Mary, Florida (serving clients Nationwide and locally in Orlando, Heathrow, Longwood and surrounding Central Florida areas.