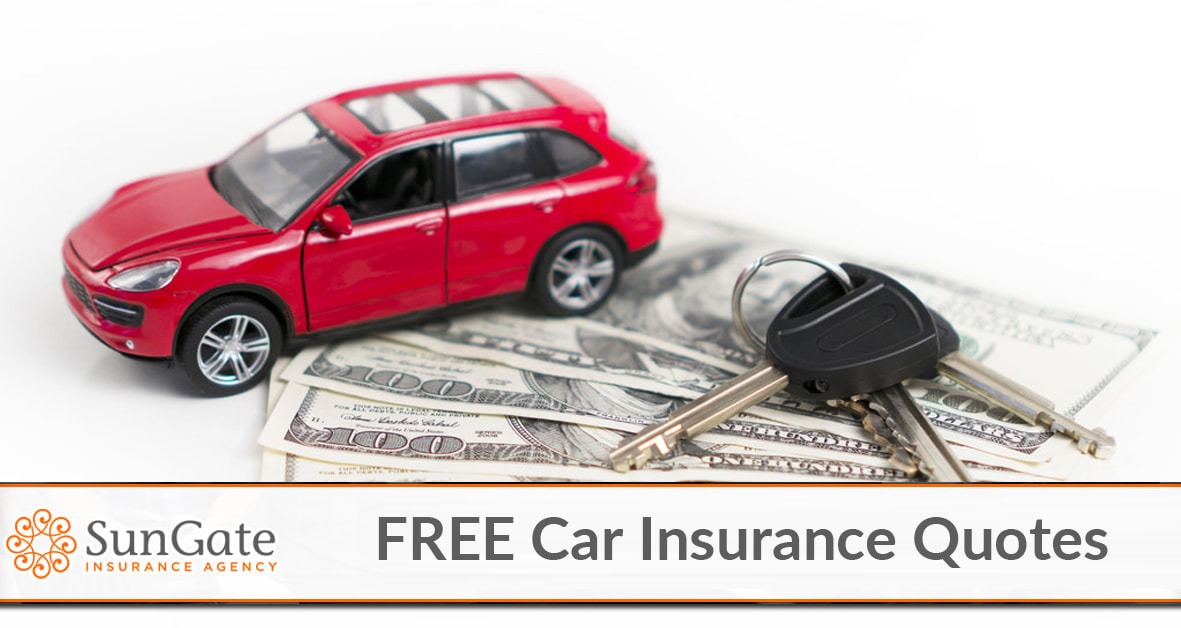 Are you getting the best possible insurance coverage at the best possible rate for your car?
Why not be 100% sure with a free quote from SunGate Insurance Agency! It's quick, it's easy, and it's FREE Are you getting the best possible insurance coverage at the best possible rate for your car?
Whether you are purchasing a new vehicle (congratulations!) or simply want the best insurance at the best rate for your existing vehicles, you know that car insurance is one of those bills you simply can't avoid. But that doesn't mean you have to pay more than you need to for the right level of car insurance coverage. In today's highly competitive car insurance market, one quick phone call may save you hundreds. And the quote is free! So what's stopping you?
At SunGate Insurance, our goal is to find a car insurance policy that fits your needs at the best possible price. We encourage you to give one of our insurance experts a call: we will ask you a few simple and easy-to-answer questions, including:
What are the makes/models/year of all the cars you need insured?
What are the names, ages, and genders of the primary and secondary drivers on each car?
What is your address, including street, town, and state?
How many miles do you drive each car every year?

Armed with the answers to these and a few other questions, we can review the different levels of available coverage (including what is required by law in your state) appropriate for you and your family and provide you with a clear, easy-to-understand estimate of what your SunGate Insurance car insurance policy would cover and how much it would cost. It really is that easy!

Our Insurance Experts Can Find the Car Insurance Policy that is Right For You!

By law, if you own and drive one or more cars, pick-up truck, minivan, or other motor vehicle, that vehicle must be covered by a car insurance policy. The right insurance policy protects you, your passengers, and your vehicle against the financial cost of a traffic collision or car accident, including both physical damage to the vehicles and any bodily injury to drivers and passengers. Additional coverage can also offer financial protection against non-accident-related incidents such as theft.

At SunGate Insurance, we are car insurance experts! We understand the complex range of issues that goes into developing the exactly-right policy for each and every one of our customers. Insurance laws vary drastically by state, so the first step in matching you to the right policy is to determine the minimum insurance required by your state. Usually that involves at least specific coverages such as:

Bodily injury liability
PIP (Personal Injury Protection)
Collision

But many states may require additional levels of coverage as well to ensure full coverage. Our experts will ensure that you have the right coverage to meet the legal requirements of your state.

In addition to understanding the legal requirements of your state, our insurance experts will also work with you to understand other factors that will impact your insurance policy rates. These factors can include the number and type of vehicles you wish to insure, the number and ages of the primary and secondary drivers of each vehicle, the area in which you live and work, and the number of miles you expect to drive each year. We will also help you understand whether you require additional insurance coverage beyond the state minimum such as comprehensive coverage, property damage liability, and uninsured motorist coverage (if these are not required by your state).

Contact SunGate Insurance for your Free Car Insurance Quote today!
​
​GET A FREE INSURANCE QUOTE
Contact SunGate Insurance Agency today learn more about the type of insurance you need. Click here to contact us or call (407) 878-7979.
SunGate Insurance Agency Coverage
Home Insurance, Auto Insurance, Group Insurance, Property Insurance, RV Insurance, Renters Insurance, Event Insurance, Insurance Bonds, Life Insurance, Business Insurance, Workers Comp, Flood Insurance, Umbrella Insurance and more!
Located in Lake Mary, Florida (serving clients Nationwide and locally in Orlando, Heathrow, Longwood and surrounding Central Florida areas.