Florida Luxury Home Insurance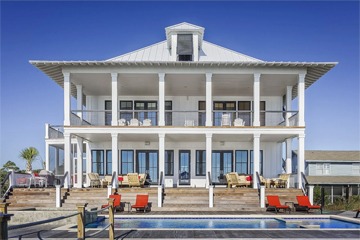 Luxury homes are a great investment for anyone looking to grow their investment portfolio. Homes in Florida are already priced high and getting a luxury one is a great opportunity for anyone looking to own real estate in this state.
Almost one in twenty households in Florida is worth a million dollars or more. This fact alone makes it a great place to buy a high-value home whose price is just going to increase in the future. A high-value home like this is a testament to all the hard work you and your family have put into making yourself a high-status individual.
Coverage Options
Let this property be a part of your legacy and get it insured as soon as possible. By partnering with Sungate you get an insurance company that is ready to listen to your needs and requirements. This way you get a personalized Luxury Home Insurance that takes care of legacy while covering almost every aspect of it.
The lovely weather of Florida can be equally devastating too for the property. Storms and rains can remove the sheen from the home-owning experience, and we highly recommend getting it insured.
Enhanced coverage for the valuable things that may be in your house provides a more wholesome policy that standard insurance coverage might not provide. Personal liability coverage can also be included which extends to when you are traveling with your family. Also, coverage for extra cost sit might take to rebuild the home even if it exceeds the cover limits,
An enhanced or expansive coverage also covers a lot more risks than a standard coverage policy. It is best that you consult an expert from our insurance agency so that we make a custom-tailored plan for you. Custom plans cover a lot of aspects and are best suited for people looking for a wide variety of coverages in just one policy.
Why you should come to us?
We at Sungate have years of experience in dealing with High Net Worth individuals and will be more than happy to have you at our agency. Our experts are some of the best in the area. They will take their time in understanding all your needs and suggest to you the best option that money can buy. We have some of the best rates in Florida and take great pride in going above and beyond for all our clients. If you are in Orlando, Lake Mary, Longwood or Heathrow, FL, contact us and find a plan that suits your needs.
Need Help to Review Your Insurance? Contact Us.

Contact SunGate Insurance Agency today learn more about the type of insurance you need. Click here to contact us or call (407) 878-7979.
SunGate Insurance Agency Coverage
Home Insurance, Auto Insurance, Health Insurance, Group Insurance, Property Insurance, RV Insurance, Renters Insurance, Event Insurance, Insurance Bonds, Life Insurance, Business Insurance, Workers Comp, Flood Insurance, Umbrella Insurance and more!
Located in Lake Mary, Florida (serving clients Nationwide and locally in Orlando, Maitland, Heathrow, Longwood, Windermere, Kissimmee, Orange County, Seminole County, Lake County, Ocala, Clermont, Leesburg, Mt. Dora, Winter Garden, Davenport and surrounding Central Florida areas.)