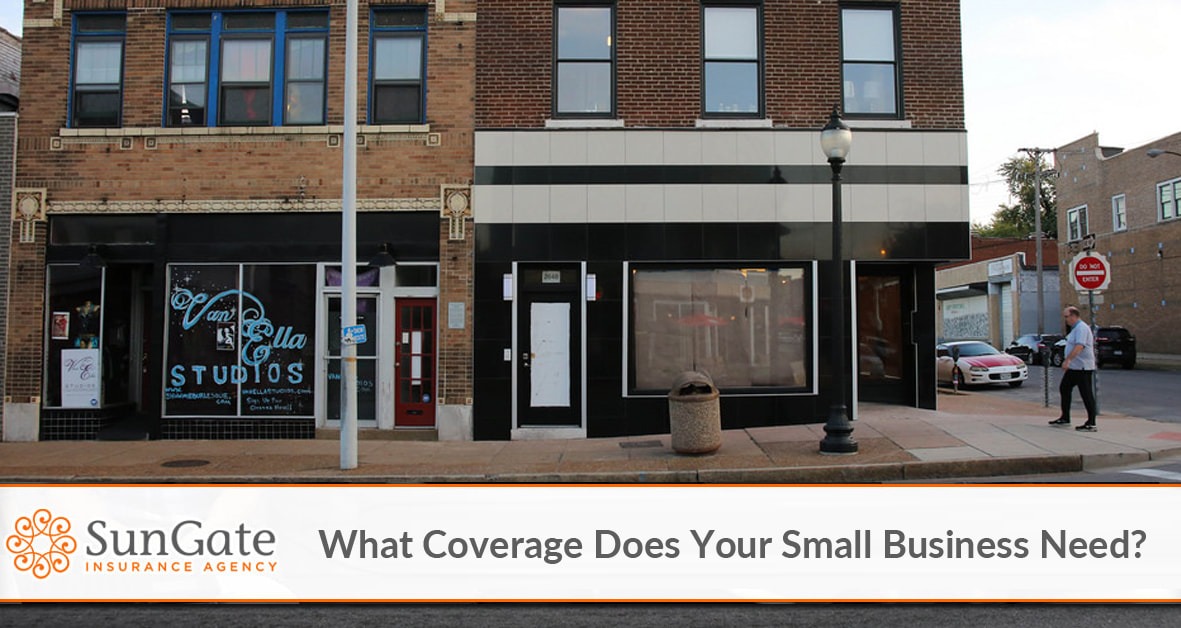 ​If you own a small business, you know that you need to protect your business and your employees with the right insurance policy. Yet understanding exactly what kind of insurance is required to protect that business can be complicated, especially when you also need to protect your bottom line.
Getting the right policy—at the right price—means knowing the rules and regulations of your state, county, and city as well as the specific requirements of your industry. A local independent agency such as SunGate Insurance Agency in Orlando, Florida is the best place to start your research. We can help you find the business insurance policy that meets all necessary legal and financial requirements in order to give you peace of mind.
Getting Started: Know Your Industry and Your Business
The first step to getting the right business insurance policy is developing a firm understanding of your industry and your insurance needs. A few simple questions will help define some of the most important insurance needs:
What industry are you in?
How many employees do you have?
Do you own commercial property?
Does your business own and/or operate vehicles?
Are lawsuits a common concern in your industry?

Once you have defined the parameters of your business, you can select coverages designed to meet the legal requirements here in Florida as well as the types of optional coverages you may want.

Knowing the Laws in Florida and other Legal Requirements

It is critical to know the legal requirements for your state and design an insurance policy to meet those requirements. In Florida, the state mandates only two specific types of business insurance:

Workers Compensation: Any business with four or more part-time or full-time employees must carry workers' compensation insurance (also called "workers comp" for short), while businesses in the construction industry must have workers' compensation insurance if they have one employee. Workers' compensation insurance helps pay medical bills and lost wages to employees who are injured on the job or who contract an occupational illness.
Commercial Auto Insurance: If your business owns, leases, and/or operates one or more motor vehicles, you must carry a commercial auto insurance policy. This policy must be separate from your personal auto insurance policy. Commercial auto insurance covers you against damages should there be an on-the-job automobile accident, protects your vehicles from theft and damage, and protects against vehicle accident-related lawsuits.

It is also important to understand any specific insurance regulations required by the county and/or city where your business is located. Additionally, other entities with a stake in your business, such as a bank or mortgage broker and/or a landlord, may have insurance requirements to protect their interests.

Get the Right Insurance Coverages for Your Business: Most Common Optional Coverages

While Workers Compensation and Commercial Auto Insurance meet the basic legal insurance requirements in Florida, these two coverages alone will likely not provide sufficient insurance protection for your business. In most cases, business owners will want to add some "optional" coverage to maximize their protection. Some of the most common coverages include:

General liability insurance: protects you against lawsuits by customers, clients, or visitors who may incur injury or damage while at your business; may also protect against advertising injury lawsuits and offer some coverage against property damage.
Commercial property insurance: covers expenses stemming from damage or loss of named commercial property due to fire, theft, or other disasters. In Florida, flood damage is usually not included and must be purchased separately.
Professional liability insurance: also known as errors and omissions insurance, professional liability protects you against lawsuits relating to expert advice and services you provide as part of your business.
Business Owners Policy (BOP): bundles multiple coverages into one package, usually at a lower rate. Appropriate for businesses in low-risk industry and who employ fewer than 100 people.
Health insurance: some employers may wish to offer employees corporate health insurance as part of an attractive benefits package. There are a variety of affordable health insurance options available today to make this option possible even for owners of small businesses!

Contact SunGate Insurance Agency serving Orlando, Lake Mary, Longwood, Heathrow and other Florida-area businesses!

We are the insurance experts at your local insurance company. Contact us today to discuss your small business insurance needs or to get a free quote!
Contact SunGate Insurance Agency today learn more about the type of insurance you need. Click here to contact us or call (407) 878-7979.
SunGate Insurance Agency Coverage
Home Insurance, Auto Insurance, Group Insurance, Property Insurance, RV Insurance, Renters Insurance, Event Insurance, Insurance Bonds, Life Insurance, Business Insurance, Workers Comp, Flood Insurance, Umbrella Insurance and more!
Located in Lake Mary, Florida (serving clients Nationwide and locally in Orlando, Heathrow, Longwood and surrounding Central Florida areas.