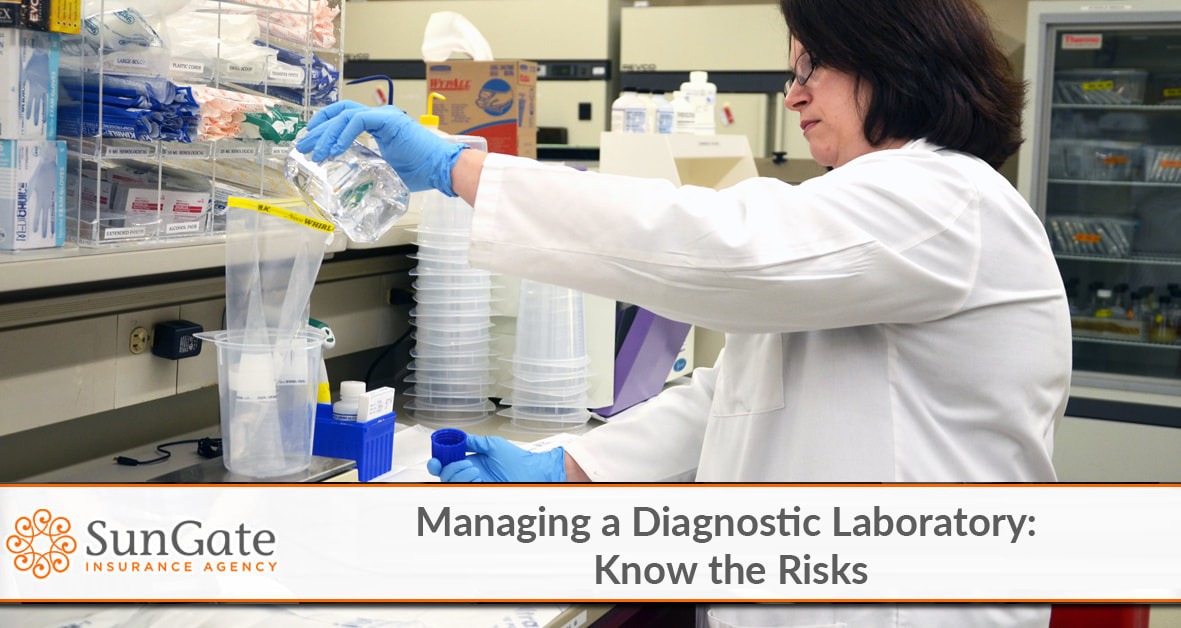 Managing a diagnostic lab so it operates smoothly, efficiently,
and effectively
, is extremely challenging. Potentially thousands of patients are relying on you every day to provide testing results quickly and accurately, while protecting their confidential medical and personal information.
Managing a Diagnostic Laboratory: Know the Risks
Your employees are counting on you to provide a safe working environment that protects them from potential contamination, illness, and accidents. In other words, from an insurance perspective, diagnostic laboratories face a number of unique risks, including (but of course not limited to):
Spills, accidents, and contamination during disposal of biological waste
Samples and/or results being misplaced, destroyed, or contaminated due to equipment failure
Employees exposed to contaminants or infectious disease while at work
Accidently releasing incorrect information or test results
HIPAA violations due to data breach or computer security problems
Car accidents involving bodily injury/property damage while delivering specimens
Damage or destruction of rented, borrowed, or leased equipment
Damage or destruction of your facility due to a natural disaster

As you've probably already guessed just by looking at this (incomplete) list, insurance coverage that will adequately protect your diagnostic lab from financial loss in the unlikely event of an unfortunate accident or harmful incident requires significantly more than most standard businesses, even within the medical community. Instead of trying to understand the risks and determine what types and levels of coverage are appropriate, we recommend working with an independent insurance agent with experience in the medical community and specifically with diagnostic laboratories. A knowledgeable and experienced insurance agent, such as the experts at Sungate Insurance Agency, can develop a comprehensive, flexible, and personalized insurance policy designed to help you keep your diagnostic lab operating at top efficiency!

Insurance Coverages for My Diagnostic Laboratory

When working with diagnostic laboratories to develop an appropriately comprehensive insurance policy, we generally recommend a mix of standard business coverages, medical coverages, and extended coverages specific to diagnostic labs. While the list provided below will give you some idea of the general types of coverages, your policy—including deductibles, coverage limits, etc—will be unique to your specific business.

Standard coverages include:
General Liability protects your premise and operations from lawsuits
Commercial Property protects your buildings and property against damages due to natural disasters (flood insurance requires additional coverage)
Equipment Property Insurance protects rented and owned equipment against damages on site or while in transit
Workers' Compensation Insurance covers employees in case of exposure or injury (required by Florida law)
Commercial Auto Insurance insures company-owned vehicles used by employees on the job (also required by Florida law)

Medical coverages include:
Medical malpractice: protects against lawsuits due to mistakes, errors, or negligence
Data breach/first-party Cyber Liability: financial protection in case of problems relating to the use, transmission, and storage of personal and medical information, including HIPAA fines

Extended coverages may include:
Coverage for cleanup of medical waste, radioactive materials, and contaminants
Coverage for expenses accumulated during emergency evacuations
Coverage for financial loss due to bio-contamination
Coverage for loss of income due to equipment failures, loss of prototypes, or interruption of R&D efforts

Understanding the specific risks of diagnostic laboratory—and making sure you are adequately protect against the worst-case scenarios—can be challenging and stressful. By working with the independent insurance experts at Sungate Insurance Agency, we can help ensure that you get the right coverages at a price that you can afford!

We are the insurance experts at your local insurance company. Contact us today to discuss your diagnostic laboratory insurance needs or to get a free quote!


GET A FREE INSURANCE QUOTE
Contact SunGate Insurance Agency today learn more about the type of insurance you need. Click here to contact us or call (407) 878-7979.
SunGate Insurance Agency Coverage
Home Insurance, Auto Insurance, Health Insurance, Group Insurance, Property Insurance, RV Insurance, Renters Insurance, Event Insurance, Insurance Bonds, Life Insurance, Business Insurance, Workers Comp, Flood Insurance, Umbrella Insurance and more!
Located in Lake Mary, Florida (serving clients Nationwide and locally in Orlando, Heathrow, Longwood and surrounding Central Florida areas.