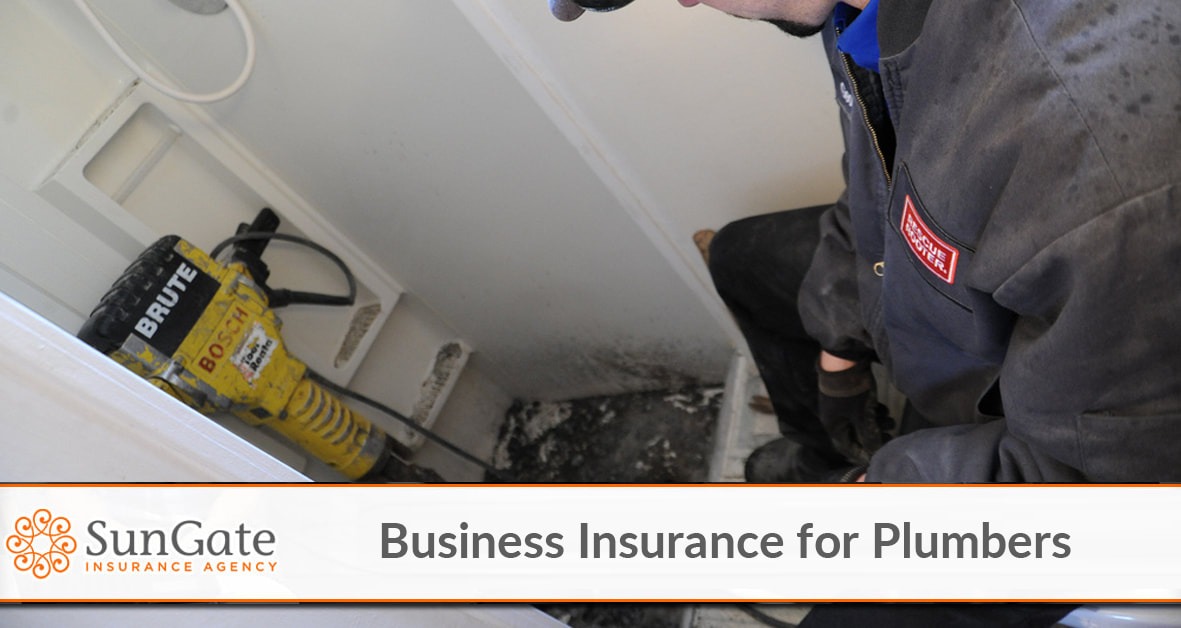 Skilled and experienced plumbers are in high demand in today's busy real estate market. From installing and maintaining new systems in commercial and residential real estate to basic repair jobs around the neighborhood, plumbing can be a rewarding and lucrative career choice.
​​
Yet owning a plumbing business can be more complicated than many people expect, especially when it comes to protecting yourself and your business against the risk of damages, lawsuits, and financial loss. Understanding the basics of insurance for the plumbing business is a necessary first step to ensuring your long-term success!
What is plumbing insurance and who needs it?
Plumbing insurance is a type of business insurance designed specifically to protect you, your business, and your employees from financial loss due to accidents, damage, or loss stemming from your work as a plumber. Even for the most skilled plumbers, there is always the risk of unsafe working environments, defective products, faulty installations, and even human error, so you need to ensure that you and your business are protected, no matter now unlikely the risk of problems and lawsuits might be.
Anyone who works in the plumbing industry—from independent contractors to owners of their own plumbing business—needs some level of insurance coverage. This includes septic tank installers, pipe fitters, renovators/remodelers, and even home builders and general contractors who employee their own plumbers. In fact, in most states, proof of appropriate insurance coverage is required to obtain a plumbing license. Moreover, most property owners will demand proof of insurance before hiring a plumber, to ensure that their property is protected as well.
What coverages are included in plumbing insurance?
While every insurance policy is unique in order to meet the specific demands of each plumbing business, there are some basic coverages that every plumbing insurance policy should include:
General liability insurance: Protects you and your business against lawsuits if you are found liable for injury and/or property damage relating to your work. The level of coverage should be appropriate to the size of your business and the type of work you do.
Plumbing liability coverage: An additional level of protection specific to the plumbing industry such as damage to existing pipes and gas lines, which carry an elevated risk of explosion.
Workers' Compensation insurance*: Protects your employees against medical expenses and lost wages in case of a workplace-related accident.
Commercial auto insurance*: Protects your business against financial loss due to accidents relating to vehicles your employees use during the course of their plumbing work.
Inland marine/installation floaters insurance: Covers your tools and equipment in case of damage or loss while in transport between jobs, as well as protects purchased installation supplies before installation.
Property insurance: Protects your business against financial loss in cases of damage to your office and other personal property related to your plumbing business.

*Florida law requires businesses in the construction industry to have both Workers' Compensation and Commercial Auto Insurance.

For small businesses with less than 100 employees, it might be possible to package these coverage into a Business Owners Policy (BOP), which can also include additional coverages such as Errors and Omissions insurance (professional liability insurance) and business income insurance. Often a packaged BOP will cost less than obtaining each coverage individually. However, it is important to review the coverages contained in the BOP carefully to ensure that it includes all the coverages your business requires.

Contact SunGate Insurance Agency serving Orlando, Lake Mary, Longwood, Heathrow and other Florida-area businesses!

We are the insurance experts at your local insurance company. Contact us today to discuss insurance needs for your plumbing business or to get a free quote!
Contact SunGate Insurance Agency today learn more about the type of insurance you need. Click here to contact us or call (407) 878-7979.
SunGate Insurance Agency Coverage
SunGate Insurance Agency Coverage
Home Insurance, Auto Insurance, Health Insurance, Group Insurance, Property Insurance, RV Insurance, Renters Insurance, Event Insurance, Insurance Bonds, Life Insurance, Business Insurance, Workers Comp, Flood Insurance, Umbrella Insurance and more!
Located in Lake Mary, Florida (serving clients Nationwide and locally in Orlando, Heathrow, Longwood and surrounding Central Florida areas.