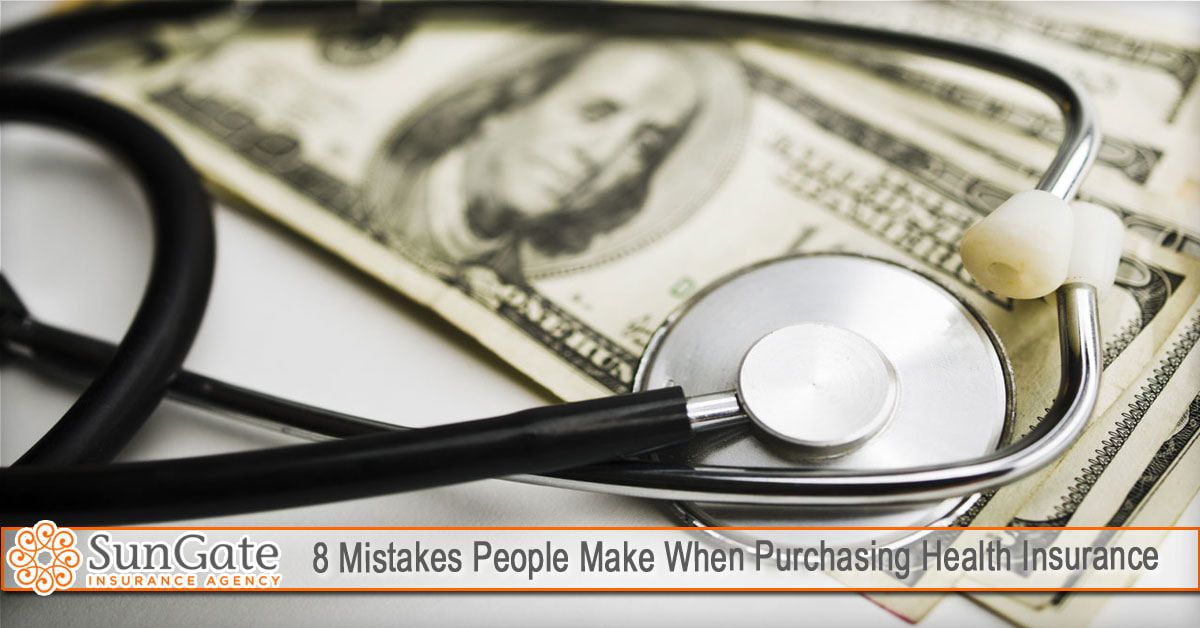 The cost of healthcare is continually rising and many health insurance companies here in Florida are proposing double-digit increases on their premiums this year. Health insurance costs vary depending on your policy and the insurer. It is easy to get confused and end up paying more than what you need. Here are eight costly mistakes you can avoid if you want to get the best insurance rates possible.
Focusing only on the cost of insurance
Many people who are shopping for health coverage focus only on their premium and deductible. But there are other things to be considered as well.
For example, if your policy only covers 80% of a surgical procedure, you are responsible for the 20% and the $500 deductible. So if a procedure costs $10,000, you will need to shoulder $2,000 plus the $500 deductible. That amount can already take a toll on your budget especially if you weren't ready for these expenses.
Not reading the terms and conditions
The top mistake people make when buying insurance is not asking their agents when they don't understand their coverage. Health insurance can be very confusing, and it is too specific when it comes to providers. So better read the terms of a policy first before purchasing it. Or better yet, consult your agent first if you ever need to use insurance.
Over-insuring
Do you need all the coverage you bought? If you don't frequent the doctor, and you have no chronic medical conditions, you might consider opting for cheaper plans.
Assuming that everything is made equal
Each person's needs and medical conditions are unique. Thus, the policy that works for your friend may not work for you at all. So before you buy insurance, evaluate your needs first. And then compare plans and doctors, and choose the right coverage that suits you.
Not asking about discounts
Insurers offer various discounts. They can reduce your premiums by joining a wellness program or after you quit smoking or drinking. You can also qualify for discounts if you get multiple policies or pay in full. Don't hesitate to ask your agent.
Not insuring yourself because you're "healthy"
Deciding that you don't need health insurance at all is a gamble on your finances. Should you fall ill and need coverage to cover medical bills, you will likely be out of luck when the enrollment period already closed.
Getting checked or treated by out-of-network providers
If your favorite physician isn't included in your policy's network, then you need to be prepared for out-of-pocket expenses. This can be avoided if you did some research before enrolling in a policy. Or you can just settle for an in-network provider instead.
If your doctor recommends that you see a specialist, make sure they are within your network as well.
Not getting coverage for prescription drugs
Medications are very expensive. If you have prescription maintenance drugs, then you should sign up for prescription drug coverage.
Be a smart consumer. Read and understand the policy before signing up for one. If you don't, then it might cost you a substantial amount of money.
Our professional team at Sungate Insurance Agency is willing to assist you with your insurance needs. We will do our best to give you health insurance at a reasonable price. Get a quote from us by clicking here and let's discuss your options. Call us at (407) 878-7979 or you can visit us at our office today.
Contact SunGate Insurance Agency today learn more about the type of insurance you need. Click here to contact us or call (407) 878-7979.
SunGate Insurance Agency Coverage
Home Insurance, Auto Insurance, Group Insurance, Property Insurance, RV Insurance, Renters Insurance, Event Insurance, Insurance Bonds, Life Insurance, Business Insurance, Workers Comp, Flood Insurance, Umbrella Insurance and more!
Located in Lake Mary, Florida (serving clients Nationwide and locally in Orlando, Heathrow, Longwood and surrounding Central Florida areas.
​